Gladstone Braves Football Season Ends With Loss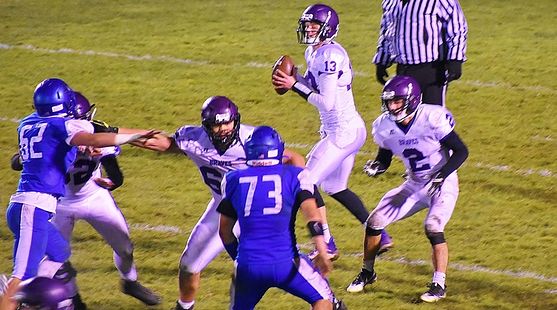 OSCODA---The Gladstone High School football season came to an end Friday night with a 40-0 loss to the Oscoda Owls in Lower Michigan. The game was scoreless in the second quarter but the Braves turned the ball over five times and the Owls scored five times.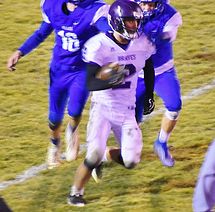 "It just comes down to blocking, tackling, and protecting the football," Gladstone Coach Jeff Hansen said. "The team that does that better usually wins. And that was the case tonight."

"Oscoda definitely did the little fundamental things better than we did, especially at the most critcial moments of the game. Goal-to-go type of things, and fourth down situations. They made those plays and we didn't make them."

The Braves pulled off a pitch-and-pass play deep into Owls territory as quarterback Drake Forrest gave it to Cole Hansen, who threw to Zac Hanson for the first down. Later, when it was fourth and short, Hansen broke off a tough run inside the five yard line.

That would be as close as the Braves would get, however, as they were stopped on four straight running plays, with quarterback Cam Kelly trying to go wide on fourth down.

Oscoda took over on its own four yard line and moved it out to midfield before Gladstone senior Luke VanBrocklin sacked Oscoda quarterback Brayden Mallak for a five-yard loss. But on fourth-and-six, Mallak found Owen Franklin with the first down pass. Robert Frost ran it in from seven yards out, capping a 96-yard drive that took six minutes off the clock, and the two-point pass made it 8-0.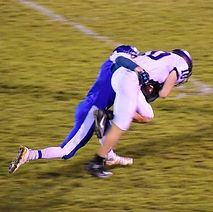 The Braves turned it over moments later when Ryan Polley caught a short pass but fumbled it. Mallak went to the deep ball and passed to Franklin for the TD. The two-point play was good again, making ot a 16-0 Oscoda lead.

Things got worse for the Braves when Forrest threw an interception to Frost, who took it to the house for a 50-yard "pick six" touchdown.

It was 24-0 at halftime, and the Owls cruised in the second half to improve their season record to 8-1.

"There's a reason why these guys are 8-1, league champions, and going into the playoffs," Coach Hansen said. "They're very sharp and they have good athletes. They do what they do well. You cam't take anything away from Oscoda. That's a good football team."

Gladstone, which started its season with a 2-0 record with wins over St. Ignace and Gaylord, ended up with a 3-6 overall record.

"You'd like the end result to be different for your seniors, but I told the kids in the huddle, that this certainly doesn't change the fact that they're a good, hard-working football team," Coach Hansen said. "We play a heck of a schedule, one of the toughest schedules you're gonna see. We don't shy away from tough competition."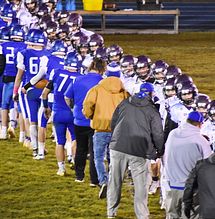 "I'm proud of our seniors and all the contributions that they've made for our program," Hansen continued. "They stuck with it and kept on going, no matter what the circumstances were. They're good kids and they're definitely Gladstone Braves and they've represented their school and community very well."

Click the thumbnails in the ARTICLE HIGHLIGHTS box above to see photos and video highlights. Also listen to post-game comments from Coach Jeff Hansen, and the player spotlight interveiw with senior Mike Hagebusch.