BOUNCING BACK: Guards Lead Norse To Victory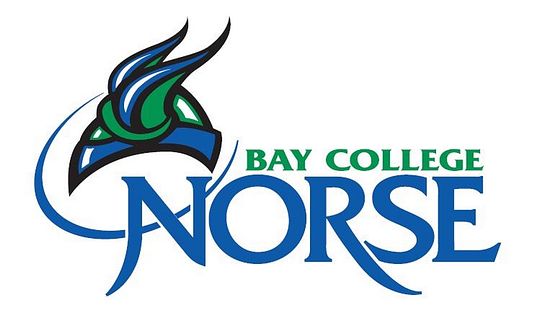 These stories were written by Bay College SID Mike Pankow

SATURDAY'S GAME RECAP

BATTLE CREEK, MI – The Bay College Men's Basketball Team (1-1) would need overtime to earn their first victory over the homestanding Kellogg Community College Bruins (0-1) on Saturday afternoon, winning by a final of 95-87.



Bay College would start the game on fire, scoring nine points in the first 90 seconds, but the host Bruins seemed unfazed, quickly closing the gap and taking the lead. It would be tight contest throughout from that point on.

The Norse would hit on seven of 18 three-pointers in the first half, which would include a buzzer-beating, high, arcing shot from the left corner that would fall from Khalid Fleming (FR, Detroit, MI). The shot would give Bay a 38-32 lead at intermission.


Bay found themselves in a hole in the second half. Kellogg took advantage of 18 offensive rebounds in that period to regain the lead. The Bruins would take it a step further, attacking the rim and putting the Norse in foul trouble.

The host team shot 22 times from the free throw line, converting 13 times. It looked as though the momentum was in the favor of the Bruins, but Bay would turn the tide. Matt Wagner (FR, Marinette, WI) hit several big three-pointers down the stretch, getting the Norse back in the game.

In fact, the Norse would end up with a chance to end the game in regulation. Tied at 77, Bay would have possession with 16 seconds left on the clock. Ryan Robinette (SO, Escanaba, MI) got a clean look off the dribble, a jumper from about 17 feet. Though it was a shot he had hit before in the game, this one would hit hard off the back of the rim, and it would force overtime.


Overtime would go in favor of the visitors from the beginning. After a missed layup of a nicely designed play off the tip for the Bruins, Bay would hit on their first few possessions as Robinette would get hot when it mattered most.

The Norse would hit on five of seven attempts from the field in overtime, one of one from three-point, and seven of nine from the free throw line. Kellogg made just four of their 12 attempts in overtime, and would not be able to overcome a nine-point overtime deficit.


"I was happy with the way that we started the game," said Head Coach Matt Johnson. "It was our goal to come out and land the first punch. I think it was important for the psyche of our group to jump on them early after the tough loss the night before. We definitely still have a long ways to go, and an awful lot to improve on, but we had guys step up, hit shots, and make plays down the stretch period. Overall I am happy with the effort and glad that we could do enough to grit one out to get the split this weekend."


Robinette led all scorers with 28 points on five of ten from three-point, eight rebounds, four assists, and three steals. Wagner ended his night hitting seven threes in 11 attempts, grabbing seven rebounds, and scoring 23 points. Chris Dobessi (FR, Detroit, MI) added 12 points, while Christian Alexander (SO, Dorset, UK) scored nine points and grabbed six rebounds.


Tahveaur Boykins (FR, Walled Lake, MI) would lead the way for Kellogg, scoring 20 points and grabbing five rebounds. Larry Patrick (FR, Flint, MI) tallied a double-double, ending with 16 points and 13 rebounds. Jamari Thomas-Newell (SO, Flint, MI) ended with 13 points and eight rebounds, while Ron Jamierson (SO, Battle Creek, MI) scored ten points.


The Norse are on the road next weekend at Rochester Community College on Friday, November 8. That game tips at 8:30 pm. They then take on Western Tech on Saturday, with that game scheduled for a 4 pm start.


FRIDAY'S GAME RECAP



GRAND RAPIDS, MI – The Bay College Men's Basketball Team (0-1) fell behind early, but fought their way back only to lose in heartbreaking fashion. The Grand Rapids Community College Raiders (1-0) grabbed a late lead and held on for a 70-68 victory at home on Friday night.


It looked like it was going to be all Raiders in the early going. They would start the game with seven unanswered points, putting their guests in a hole. The Norse offense was stagnant in the early going while Grand Rapids seemed to do as they pleased.

With 7:08 left in the first half Head Coach Matt Johnson would take a time out, with his team trailing 35-15.


The timeout would prove to be effective as the Norse would come out on an 11-0 run, putting themselves back in the fight. Chris Dobessi (FR, Detroit, MI) would beat the halftime buzzer with a three-pointer to send the teams to the locker room with the score at 40-31 in favor of the Raiders.


Bay College would continue their comeback effort in the second half. Tristan Masuga (FR, Cedarville, MI) would hit a three and a two-point jumper on consecutive possessions, cutting the lead to four. With just under 15 minutes remaining in the game, Khalid Fleming (FR, Detroit, MI) scored, putting Bay College in the lead for the first time in the matchup.


The Norse would hold their biggest lead of eight with just over nine minutes to go, but would not be able to pull away any further. Grand Rapids CC would stick around, slowly cutting into the deficit. Bay would be clinging to a one-point lead with 1:28 on the clock when Christian Alexander (SO, Dorset, UK) would finish strong, and get fouled, completing the three-point play and giving the Norse a two-possession lead.

The Raiders would respond however, as Johnny Davis (SO, Detroit, MI) would finish underneath, drawing a foul of his own. The foul proved costly to the Norse, as it turned out to be Alexander's fifth, sending him to the bench for the rest of the game. Davis connected on his free throw to make it a one-point game once again.


The two teams would trade possessions, but it would be a crucial turnover that would turn the tide. A foul would send David Hearns (SO, Hazel Park, MI) to the line, and he would hit both shots to take the lead. Bay College would get one more chance to tie or take the lead, but could not convert, allowing Grand Rapids Community College to seal the two-point win at home.


"I was really happy with the way that we fought back after digging ourselves into a hole early," said Head Coach Matt Johnson. "The kids played hard and gave ourselves a chance to pick up a 'W' on the road against a very good team. It's a great learning opportunity for us, we need to figure out how to execute down the stretch and win tough games against teams at this level. As tough as it is to lose one like this, I am really excited to see how our guys respond tomorrow against Kellogg."


Herman Brown (FR, Detroit, MI) led all scorers with 15 points and ten rebounds. Davis would be responsible for 14 points and nine rebounds, while Hearns added 12 points, five rebounds, and four steals.


For the Norse, Masuga would earn his first double-double of his college career, finishing with 14 points and 11 rebounds. Alexander added 14 points and nine rebounds. Bay would get 12 points, eight rebounds, and five assists from Ryan Robinette (FR, Escanaba, MI), while Xaviel Fields added ten points.