NORCE FORCE: Bay Ladies Sweep Opening Games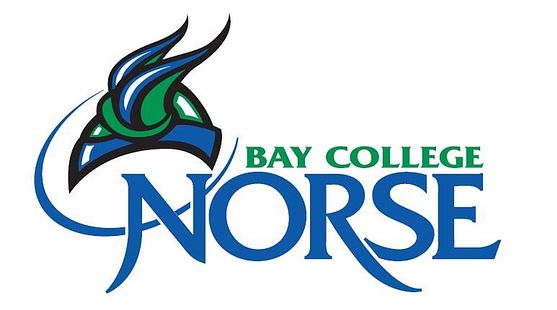 These stories were written by Bay College SID Mike Pankow

SATURDAY'S GAME RECAP

BATTLE CREEK---The Bay Norse Women's Basketball Team (2-0) wound up pulling out a victory against the Kellogg Community College Bruins (0-1) in a back-and-forth matchup on Saturday afternoon. Bay College ended up with a 62-59 victory.

Bay would have to overcome some self-inflicted wounds in this matchup as they would turn the ball over 15 times in the first half.

The Norse would shoot 44% in that period, but only hit on one of six three-point attempts.

The road team did create some pressure of their own, as they would force 13 turnovers in the first half and hold their hosts to 32% shooting from the field, but Kellogg attacked the rim, getting to the free-throw line 17 times, converting nine of those attempts.

Through all of that, the Norse would find themselves tied with Kellogg at the half, the score knotted at 26.

Both teams made adjustments in the second half, improving their ball security and reducing turnovers. Bay would stay consistent from the floor, shooting 42.9%, but added the long ball, as they would knock down four of nine from behind the three-point arc in the second half. Their defense would come through when it mattered most, holding the Bruins to just four of 15 shooting in the fourth quarter.

Bay would finally get themselves to the charity strip in the fourth quarter, though they would only convert on seven of 14 attempts. In all it ended up being just enough to hold on for the three-point victory.

"I am proud of how our players ground out a win," said Head Coach Rob Robinson. "Our constant pressure for forty minutes is what wore them down. When we were down eight in the fourth quarter, we could have packed it in and moved on, but our players grinded out a win, and as a coach, I couldn't be more proud."

Haley Trudell (SO, Rock, MI) hit on four of six attempts from three-point and ended with 16 points. Kaitlyn Hardwick (SO, Gladstone, MI) ended with eight points and five rebounds, while Trish McGuire (FR, Gwinn, MI) contributed nine points.

Audrey DeWaters (FR, Richland, MI) led all scorers with 19 points and eight rebounds. Jessalynn Genier (SO, Battle Creek, MI) added ten points and eight rebounds for the Bruins.

The Norse will be on the road next Saturday, November 9. They will take on Western Tech in La Crosse, WI at 2 PM.

FRIDAY'S GAME RECAP

GRAND RAPIDS, MI – The Bay Norse Women's Basketball Team (1-0) got off to a strong start, clipping the Grand Rapids Community College Raiders (0-1) by a final score of 65-54 in the regular season opener.

A 10-0 run midway through the first quarter would open up a lead for the Norse that they would never surrender. The Raiders would snap that run with a couple of baskets to pull within five, but Bay would score the next six, taking a 25-14 lead after quarter of play.

The road team would shoot it well in the first half, helping them maintain a double-digit lead throughout the second quarter.

Grand Rapids CC would close it to a ten-point lead with 6:27 remaining in the half, but the Bay College defense would shut them down from that point. The Raiders would hit just one more field goal the rest of the half, allowing the Norse to go to half time on an 11-4 run. Bay shot 40% from the floor in the half, including five of eleven from three.

The Raiders would struggle against Bay's full court pressure, turning the ball over 18 times during that period. Bay would lead by a score of 40-23 at intermission.

An early scoring drought for the Norse in the second half would keep Bay from extending the lead out of reach. They would go over four minutes without scoring in the third quarter, allowing the Raiders to cut the lead to twelve.

The Norse offense cooled off some in the second half, but would maintain a double-digit lead throughout. Bay held on to an 11-point lead to open the season.

Bay College would finish the game shooting 37.9% form the floor. They would outrebound Grand Rapids CC 44-37. The Norse would force 27 turnovers, but had ball control issues of their own, committing 12 in the second half. The Raiders would up shooting 35.3% and connected on six of 14 from behind the three-point arc.

"It was a good team effort and a good team win tonight," said Head Coach Rob Robinson. "It's always nice to win, especially on the road. I am proud of the effort that this team puts forth every day, and their hard work showed tonight. It was a great way to start the season."

Rayven Moody (SO, Kentwood, MI) led the Raiders with 14 points and five rebounds. Eurasia Green-Boyd (FR, Grand Rapids, MI) added 11 points and four assists.

Kaitlyn Hardwick (SO, Gladstone, MI) ended her night with 13 points and four rebounds. Holly Wardynski (FR, Ontonagon, MI) added nine points, while Keshia Davis (SO, St. Ignace, MI) grabbed eight rebounds.