SENIORS SHINE: Wildcats Pick Up 2-0 Soccer Win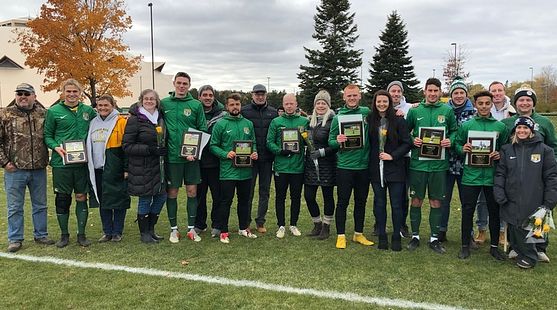 This story was written by NMU Sports Information

MARQUETTE---The Northern Michigan University Men's Soccer team celebrated Senior Day by defeating Ashland University 2-0 in the team's final home GLIAC match of the season.

Prior to the match, NMU honored their seven seniors. Those honored included Ben Hoffman (Petoskey, Mich.), Sveinn Karlsson (Akureyri, Iceland), Luca Lippert (Langen, Germany), Nick Metcalfe (Royal Oak, Mich.), Lewis Murray (Edinburgh, Scotland), Callum Olpin (Norwich, England), and Eric Suess (Ludwigsburg, Germany).

After a scoreless first half, the Wildcats found the net in the middle of the second half.

NMU was fouled on their side of the field and Murray took the free kick. He sailed the ball into the box over the Ashland defense where juniors Keegan Goetz (Gowen, Mich.) and Arni Eiriksson (Akureyri, Iceland) managed to touch it over to Lippert who put it into the net to give NMU a 1-0 lead with just over 21 minutes left to play.

Later in the second half, freshman Ryan Palmbaum (Rocklin, Calif.) brought the ball up the field along the left sideline which attracted the Ashland defense.

He then centered the ball to a waiting Goetz in the middle of the box who fired the ball past the AU goalkeeper for his first career goal.

The Wildcats outshot the Eagles 23-5 on the day with seven players who took multiple shots. Lippert, Olpin and Palmbaum all tied for the team's lead with four shots each.

Murray and Goetz both added three shots with Hoffman and sophomore Kaffie Kurz (Paynesville, Liberia) chipping into the effort with two.

Sophomore goalkeeper Patrick Restum (Okemos, Mich.) was aided by a strong defensive effort as he only needed to make one save in the match.

With the win, the Wildcats improve to 8-9 on the season and 7-6 in the GLIAC and are now in sole possession of the fifth seed for the GLIAC Tournament with 21 points.

Northwood University is ahead of NMU with 24 points. After today's win over Ashland, the Wildcats will not be seeded any longer than fifth.

NMU will head to University of Wisconsin Parkside, the GLIAC leader, Thursday for the regular season finale.

A win over the Rangers and an NU loss to Saginaw Valley State University will cause a tie between NMU and Northwood for the fourth seed and a home first round playoff match.