Kingsford Wins Marathon Match As Districts Begin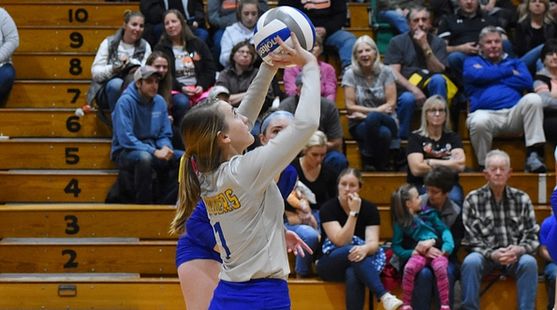 KINGSFORD---The MHSAA District Volleyball Tournaments began on Monday across the Upper Peninsula, with the most intense match happening in Kingsford as the Houghton Gremlins came to town for a Division Two match.

It was a marathon match, with the Flivvers pulling out a 3-2 victory.

Kingsford won the first set, 25-12, before the Gremlins came back to win the next two sets, 25-21 and 25-14. In the fourth set, the Flivvers stayed alive with a 25-16 victory, forcing a winner-take-all fifth set. And that one went overtime, with the Flivvers taking the set, and the match, 17-15.

Ths win for Kingsford advances the Flivvers into a semifinal match against the Escanaba Eskymos. Escanaba won both Great Northern Conference matches during the regular season, with Kingsford taking a match at the Gladstone Rock Invitational.

The match is set for Wednesday night. The other semifinal sees Gladstone travel to Menominee, with the chmapionship match set for Friday night.