Northern Michigan U. Soccer Falls At UW-Parkside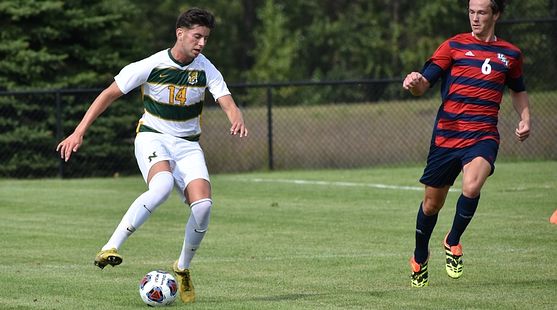 KENOSHA, Wis.---Northern Michigan University Men's Soccer visited the University of Wisconsin Parkside Thursday afternoon in the regular season finale but fell to the Great Lakes Intercollegiate Athletic Conference leading Rangers 3-2.

In the fifth minute of the match, senior Eric Suess (Ludwigsburg, Germany) took a pass from junior Luca Lippert (Langen, Germany), to score his second goal this season to give the Wildcats an early 1-0 lead. Lippert picked up his fourth assist this year on the play.

Stevi Krecak tied it for Parkside before halftime, then Leki Prpa put the Rangers in front in the 58th minute. Less than three minutes later, NMU freshman Ryan Palmbaum (Rocklin, Calif.) tied the game 2-2 by finding the net for his eighth goal of the season.

However, with just over 13 minutes remaining in the match, a Wildcat player received a red card. Shortly after, the Rangers scored a goal by Jack Mittelsteadt to make it 3-2.

Palmbaum finished the match leading the team with six shots, putting four on goal. Senior Callum Olpin (Norwich, England). Senior Nick Metcalfe (Royal Oak, Mich.) and Lippert both tallied two.

Freshman Jonas Vorbau (Wuppertal, Germany) tallied four saves.

NMU falls to 8-10 on the season and 7-7 in the GLIAC. Both are the most wins in program history. Parkside secured the top seed in the GLIAC Tournament with the win. NMU will return to action Monday and will hit the road for the first round of the GLIAC Tournament.