DEFENSE RULES: Norse Shut Down UW-Marinette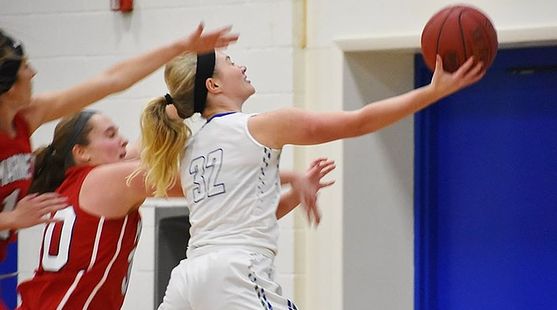 ESCANABA---The Bay College Norse women's basketball team used aggressive defense to force 33 turnovers Monday night in a dominating 88-35 win over the Wisconsin-Marinette Buccaneers in Escanaba. The result comes one day after the Norse forced 47 turnovers in a 113-20 win over the Lake Superior State junior varsity team.

On Monday, the Norse scored the first eight points of the game and rolled to a 29-4 lead after the first quarter, and a 50-13 lead at halftime.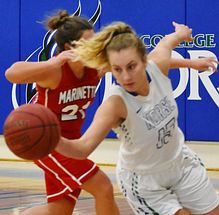 "I think we have some intense players," Norse Coach Rob Robinson said. "I love our players who hit the floor. We're always diving for loose balls. We got a little slow in the second half, but that's just the nature of the game when you're up by 60 points two games in a row."

Thirteen of the Norse 14 players who suited up Monday scored at least one basket. Haley Trudell led Bay in scoring for the second straight day, knocking down four of her five three-point attempts and scoring 14 points. Holly Wardynski had a nice all-around game with nine points, five assists, two steals, and three rebounds.

"A big thing we've been working on is being patient in our offense," Warydnski said. "We did a really good job on doing that these last two games. We had good defensive intensity, and we played as a team."

Kaitlyn Hardwick and JuliAnn Wickman also scored nine points each. Keshia Davis led on rebounding with seven rebounds, four of them on the offensive end.

Bri Burnett led UW-Marinette with a game-high 19 points. She made eight of her 15 shot attempts. The rest of the Bucs team made six baskets on 24 attempts.

As a team, the Norse made 10 of 18 three-point attempts, while the Bucs made just one triple in the contest. Bay outrebounded Marinette, 35-27.

Bay College improved to 4-1 on the season with a road trip this Friday to Milwaukee Area Technical College, and Saturday to Harper College in Palatine, Ill. Both games will be broadcast live on Maverick 106.3 FM and radioresultsnetwork.com.

Click the thumbnails in the ARTICLE HIGHLIGHTS box above to see photos and videos, and hear post-game comments from Coach Rob Robinson and Holly Wardynski. Also hear Keshia Davis' player spotlight interview.