Eskymos Open Hockey Season With 4-1 Road Win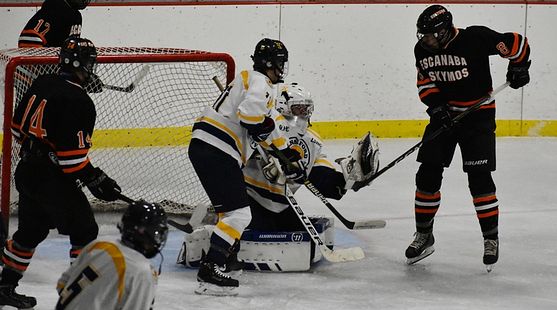 IRON MOUNTAIN---Kyle Krutina scored two goals and assisted on another, and Trevor Denome made 27 saves as the Escanaba Eskymos beat the Kingsford Flivvers, 4-1, Thursday night in the season opener at the Mountain View Arena.

Spencer Bourdeau had a three-assist playmaker for the Eskymos as part of the top line that also saw senior Ethan Silverstone hit the back of the net in the first period.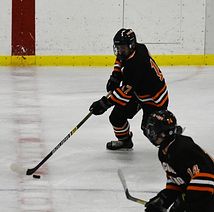 The Eskymos got off to a strong start, with Silverstone cashing in on a rebound off of a Bouirdeau shot just 4:11 into the game. Krutina drew the second assist after he carried the puck into the Kingsford zone as part of a 3-on-2 offensive rush.

Krutina scored the second goal six minutes later with a snipe from the left side. Denome stopped all 13 shots he faced during that first period.

The second period was spent killing penalties, as Kingsford had three straight power plays, with Krutina in the box for two of those penalties.

But the Eskymos played well defenisvely and allowed only one decent scoring chance during those power plays.

The score was still 2-0 headfing to the third period, when Krutina scored his second goal just 17 seconds into the period, after Bourdeau won the face-off.

Kingsford's Nick Saari brought his team to within 3-1, but the Flivvers never mounted an offensive threat from there, even after they pulled their goaltender.

Karson Krutina added an empty net goal with 18 seconds to play, after his older brother Kyle missed his hat trick by missing the empty net with a high shot.

Click the thumbnails in the ARTICLE HIGHLIGHTS box above to see photos and vidoes, and hear post-game comments from Coach Pat Labre. Also hear player spotlight interviews with Trevor Denome and Luke Labre.