STORM WARNING: Milwaukee Tech Beats Norse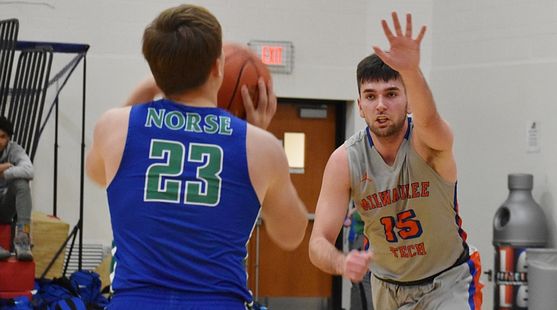 Story written by Bay College SID Mike Pankow

MILWAUKEE---The Bay College Men's Basketball Team (3-3) faced off with the sixth ranked team in NJCAA Division 2 on Friday evening.

They would come out on the short end of the contest, falling to Milwaukee Area Technical College Stormers (5-0) by a final of 111-76.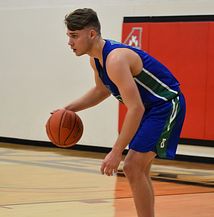 The Stormers claimed the lead early, but Matt Wagner (FR, Marinette, WI) hit a three to pull Bay to within two with just over 15 minutes to play.

The Norse went cold from there, as it would be nearly six minutes before they hit a shot from the field.

MATC led by 14 at that point, and would never trail in the contest. Bay was not able to slow down the face-paced Stormer attack, and trailed by 22 at the half. MATC continued their torrid pace in the second half. They pushed their lead consistently through the second half, taking a 35-piont victory.
The Norse gave up 24 offensive rebounds to the Stormers and got outrebounded 58-43. Bay shot 34.7%, and struggled from deep, hitting just five of 28 three-point attempts. They turned the ball over 20 times. Milwaukee Area Tech shot 47.1% from the floor, including 15 of 39 from behind the arc. They turned the ball over 21 times.

"I'm proud of our effort tonight," said Head Coach Matt Johnson after the game. "The kids played hard. We just didn't execute our game plan well enough. Hats off to Milwaukee, they are a heck of a basketball team. We need to continue to work and get better each day. Sometimes you need a kick in the butt like we just got. This group is resilient, we will learn from it and be better in the long run."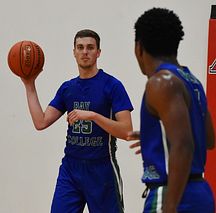 Chris Dobessi (FR, Detroit, MI) led the attack for Bay College, ending with 15 points. Tristan Masuga (FR, Cedarville, MI) scored 12 points and grabbed seven rebounds, while Ryan Robinette ended with 12 points, six rebounds, and four assists. Christian Alexander (SO, Dorset, UK) chipped in ten points and eight rebounds.

Ayomide Ajiboye (SO, Chicago, IL) recorded a double-double for the Stormers. He ended with 14 points and 11 rebounds. Steven Ross Jr. (SO, Chicago, IL) and Jason Webb Jr. (SO, Milwaukee, WI) each scored 14 points, while Yuri Swinford (SO, Bloomington, IL) added 12 points and five rebounds. Melvin Lee III (SO, Milwaukee, WI) and Nuri Knighten (FR, Chicago, IL) scored 11 points apiece.

Bay will travel to Harper College for a Saturday afternoon matchup. That game is scheduled for a 3 pm tip off. The game will be broadcast on Maverick 106.3 FM and on-line at www.radioresultsnetwork.com.

Click the thumbnails in the ARTICLE HIGHLIGHTS box above to see RRNSports.com photos, videos, and to listen to Johnson's post-game comments. Also click to hear Cade Contreras player spotlight interview.