Northern Michigan Women Have Strong Weekend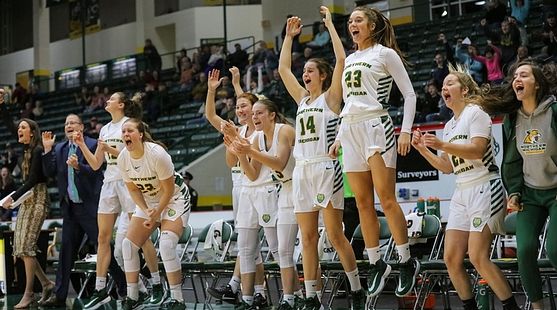 This story was written by NMU Sports Information

SUNDAY'S GAME RECAP

MARQUETTE, Mich. – Four players scored double figures Sunday afternoon to help guide the Northern Michigan University Women's Basketball team to a 65-60 victory over Concordia University, St. Paul.

Sophomore Elena Alaix (Madrid, Spain) led the Wildcat offense with 15 points, hitting three three-pointers. She also led the team with three assists. Senior Erin Honkala (Howell, Mich.) added 13 points and a season-high four blocked shots, getting blocks on two CSP shots in the final 12 seconds.

Freshman Makaylee Kuhn (Hilbert, Wis.) chipped in with 12 points while senior Jessica Schultz (Mineral Point, Wis.) posted 11.

On the boards, junior Lexi Smith (St. Germain) notched a team-high of seven. Honkala grabbed six and Schultz tallied five.

As a team, NMU outrebounded the Golden Bears 30-20, and held a 14-2 advantage on second chance points. The Wildcats finished the day shooting 47.8% from the field and held CSP to just 35%.

The action started quickly with Huebner and Smith scoring layups, but the Golden Bears answered both to make it 4-4 just over a minute into the game. After a CSP three, Schultz scored. The Bears answered with a 14 point run which Alaix stopped with a three with 3:21 to go in the quarter.

Facing a 21-9 deficit, Honkala and Schultz combined for six points in the paint to end the quarter with CSP leading 21-15.

Alaix hit a jumper to open the second quarter which capped an 11-point rally by the Wildcats but the guests responded with seven points. Kuhn then made a three which made the score 28-20 at the 7:12 mark.

Alaix added two more threes but the Golden Bears made answered with a three of their own. Kuhn added another NMU three with two minutes to go in the half and a free throw by CSP, she sank two free throws to send the teams into the half with the visitors leading 38-33.

The Wildcats stormed back to take their first lead since the first minute by outscoring CSP 20-10 in the third quarter.

Alaix started the second half and sank two free throws. After four points from CSP, Schultz made a three and Honkala scored inside to make it 42-40 with 6:25 on the clock.

Almost a minute later, Schultz tied the game at 42-42 then answered a three by the Golden Bears with two free throws.

Kuhn made a layup with 3:40 left in the quarter to give NMU a 46-45 lead, then made two free throws herself. CSP tied the game with a three but Honkala scored, followed by a three from Baleigh Delorit (Algoma, Wis.) to give the Wildcats a 53-48 lead entering the fourth quarter.

The Golden Bears cut the lead to 53-52 two minutes into the final quarter and then made two free throws after a Smith basket to make the score 55-54 with 6:20 left to play.

Coming out of a timeout, Honkala scored four points around a CSP free throw, but a three by the Golden Bears moved the score to 59-58 with three minutes to go.

With 2:11 to play, Huebner sank two free throws, making it 61-58. Honkala added a free throw which CSP answered with two of their own. With 39 seconds left, CSP called timeout looking to tie the score but Honkala blocked the game-tying shot with 12 seconds on the clock which eventually led to a CSP shot clock violation.

After Huebner sank a free throw with 10 seconds to play, the Golden Bears called timeout to advance the ball to their end of the floor. CSP was set to tie the score with a corner three with sevens left but Honkala again made a play, blocking the ball out of bounds. After another CSP timeout, another three point attempt was missed and Smith got the rebound. She then sank two free throws with two seconds remaining to give NMU a 65-60 victory and their second win of the weekend.

The Wildcats improved to 3-3 on the season while CSP fell to 2-3 after defeating Michigan Technological University Friday night and falling Sunday afternoon to the Wildcats.

NMU returns to action Friday to take on Truman State University in Springfield, Missouri for the Oasis Hotel & Convention Center Thanksgiving Classic hosted by Drury University. NMU will take on the #1 Drury Saturday night.


SATURDAY'S GAME RECAP

MARQUETTE, Mich. – Junior Amber Huebner (Marquette, Mich.) found senior Erin Honkala (Howell, Mich.) for the game winning basket with one second remaining to give Northern Michigan University Women's Basketball a 55-53 victory over St. Cloud State University in the team's home opener.

Senior Jessica Schultz (Mineral Point, Wis.) led the Wildcats with 16 points. She was also second on the team with seven rebounds, tying Huebner. Freshman Makaylee Kuhn (Hilbert, Wis.) chipped in with eight points.

Honkala posted a team-high nine rebounds while adding six points along with two assists, two steals and a block. Honkala, Huebner, junior Elizabeth Lutz (Marshall, Wis.) and junior Lexi Smith (St. Germain, Wis.) all aided the effort with six points.

Huebner and Smith notched two steals as well.

Schultz started the game with a basket to get the scoring started but SCSU answered with five points to take the lead. Schultz then converted the and-one to tie it up again, 7-7, to answer another Husky score.

The guests managed to score four points but the Wildcats answered with a 13-point run to end the first quarter. Facing an 11-7 deficit, Kuhn sank a three, then sophomore Elena Alaix (Madrid, Spain) hit a three to give NMU a 13-11 lead.

Smith added a jumper before three free throws by Kuhn and then Smith made another basket right before the buzzer to give NMU a 20-11 first quarter lead.

The Huskies made a basket to open the second quarter but Huebner scored to answer.

After four points from SCSU, Lutz hit a three before Schultz and Honkala notched a basket to extend the lead. Sophomore Emily Mueller (Fond du Lac, Wis.) added a basket and Lutz hit another three to give NMU a 34-19 lead with less than four minutes to go.

SCSU made a three which Schultz followed with a basket. The Huskies responded with six points before freshman Samantha Potter (Royal Oak, Mich.) scored. SCSU closed out the quarter with two free throws but NMU entered the break with a 38-30 lead.

Huebner gave the Wildcats a 40-30 lead with a score but the Huskies rebounded with five points. Kuhn sank two free throws which SCSU followed with another five points and made it 42-40 with three minutes to go in the quarter.

Smith and Schultz both extended the lead with baskets then Schultz made one free throw and Honkala made two free throws to give NMU a 49-40 lead. In the final minute, SCSU made a three to send the teams into the final frame with NMU leading 49-43.

The Huskies scored first in the fourth but Schultz answered. With three minutes to play, SCSU made a basket which Huebner responded with a layup to make the score 53-47.
SCSU was able to respond and tied the game with 18 seconds to go. NMU called a timeout to set up the final play.

With one second left on the clock, Huebner found Honkala on the block wide open and Honkala made the layup to give NMU a 55-53 victory.