ROLLING ALONG: Bay Ladies Overwhelm Harper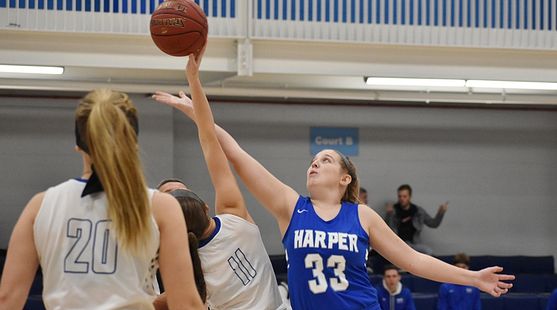 PALATINE, Ill.---The Bay College women's basketball team rolled to a 91-18 win over Harper College Saturday afternoon in suburban Chicago.

The Norse allowed only one shot attempt in the first quarter and forced 18 turnovers as they took a 24-3 lead after the first ten minutes. Bay continued to dominate the game over the final three quarters as Coach Rob Robinson freely substituted.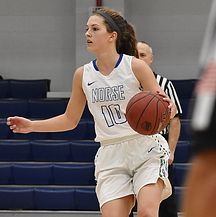 "It's tough in a lot of these games for them to keep their focus," Norse Coach Rob Robinson said after his team won its third game in the past week by more than 50 points. "But I thought our players did a good job of that. We were trying to force some shot clock violations in the second half and I think their coach told them to shoot before you turn it over. So, they were shooting some different shots."

Twelve different Norse players scored, led by Gwinn graduate Trisha McGuire, who led all scorers with 17 points.

"I felt really good," McGuire said. "I've had some health problems, with my heart, so it was nice. It was definitely difficult because the other team didn't have much competition. We just told each other over and over again that we had to keep it up and do our best, stop trying to steal it, and just practice for what the future teams are going to give us."

Kelsea Ackerman scored 13 points, including three three-pointers. Brooke Dalgord added 12 points and Haley Trudell hit a pair of triples and finished with 11 points. Keshia Davis and Juliann Wickman both added nine points.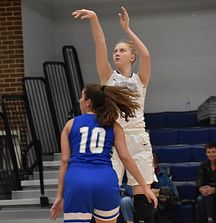 "We tried to run a few things offensively against the zone," Robinson said. "We haven't seen much zone yet, and I think we'll see some, especially against Alpena (Monday night). It was good all-around for our players. It's just tough because we preach about being intense, and having that intensity throughout. And then to ask them to back off in some of these games, it's just not fair to them."

Bay College improved to 6-1 on the season.

The Norse will host Alpena Community College Monday evening. Game time is 5:30.

It will be broadcast on Maverick 106.3 FM and on-line at www.radioresultsnetwork.com.

Click the thumbnails in the ARTICLE HIGHLIGHTS box above to see photos and videos, and hear interviews with McGuire and Robinson.