Trudell Sinks Seven Triples As Bay Grinds Out Win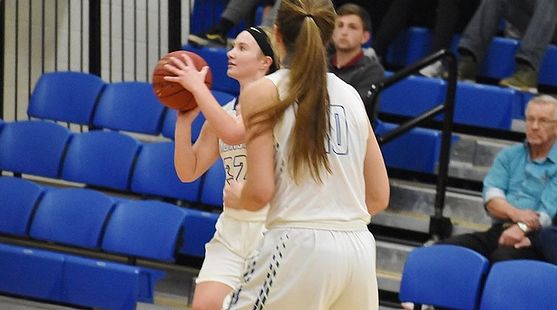 ESCANABA---Haley Trudell sank seven three-point baskets, including four in the fourth quarter, to lead the Bay College women's basketball team to a 69-55 win over Alpena Community College Monday night in Escanaba.

The game was a physical one, with the teams combining for 55 personal fouls. That led to the Norse going to the free throw line 36 times (making 24) and Alpena getting to the stripe 27 times (making 20).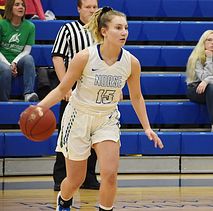 "The girls battled through it," Norse Coach Rob R9binson said. "It was ugly. It couldn't get any uglier for both teams. But Haley stepped up when we needed her to. They ran a 1-3-1 (defense) against us and we haven't played against that yet, so that was a little bit of a setback. So, it took some adjustments."

"When they switched from a 2-3 to a 1-3-1, we adjusted our offense, and we were able to find the holes, and the gaps down in the corners," Trudell said.

Alpena took a 12-11 lead after the first quarter, but Bay outscored the Lumberjills in the second quarter, 15-5, to take a 26-17 lead at halftime. The Lumberjills (1-7) would not go away, closing to within 45-41 in the fourth quarter as Emma Jore scored nine points during a late third quarter run. And Bay faced more adversity in the fourth quaretr when sophomore Kelsea Ackerman went knee-to-knee with an Alpena player and had to be carried off of the court by the athletic trainers.

Moments later, Ackerman's twin sister, Marissa, fouled out.

But that's when Trudell stepped up.


The Norse worked it inside to Brooke Dalgord for a much-needed basket, amd then Trudell, the sophomore from Mid Peninsula High School made a long triple to make it 50-41. Gwinn graduate Brooke Mannon followed with a triple of her own, a shot that hit the rim four times before it fell through the hoop. That made it 53-41.

"I'm glad she hit it, but we had two girls there who were ready to dunk it," Robinson laughed. "We had the rebound pretty much sealed. It was all-white around the basket on that one. Having those back-to-back, when we were struggling to score, really was big for us."

Then after the Lumberjills closed the 12-point deficit back down to six, Trudell launched another triple, and stole the inbounds pass. She was fouled and made two free throws, a personal five point run that gave the Norse a 63-51 lead down the stretch.

Trudell nailed a wide-open triple fo good measure in the closing minutes to finish the game with a game-high 23 points. All seven of her baskets were triples and all 11 of her shot attempts for the game came from behind the long arch.

"With Kelsea getting hurt, that's one of our best shooters," Trudell said. "So, I had to make up for it, with me and JuliAnn (Wickman) on the floor."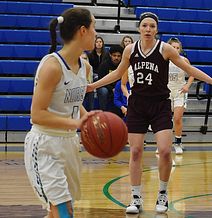 McGuire had a perfect night. She made both of her three-pointers and all four of her free throws to finish with ten points.

She also had five rebounds and three assists.

Taylor Hunter contributed seven points and five rebounds, and fellow Gladstone Brave Kaitlyn Hardwick chipped in seven rebounds.

Alpena had two players foul out and two others finish with four fouls. The Lumberjills were led by Jore's 18 points and five steals. Brooke Nguyen added ten points.

Bay College improved to 7-1 on the season. The Norse travel to Ironwood this weekend to face Hibbing (Minn.) Community College Saturday at 2:00 ET, and then will face Vermillion (Minn.) College at 11:00 ET Sunday morning.

Both games will be broadcast on Maverick 106.3 FM and www.radioresultsnetwork.com.

Click the thumbnails in the ARTICLE HIGHLIGHTS box above to see photos and videos, and hear post-game comments from Trudell and Robinson. Also hear our halftime interview with student manager Kayla Barsky.