NMU Second Half Rally Comes Up Short In Alaska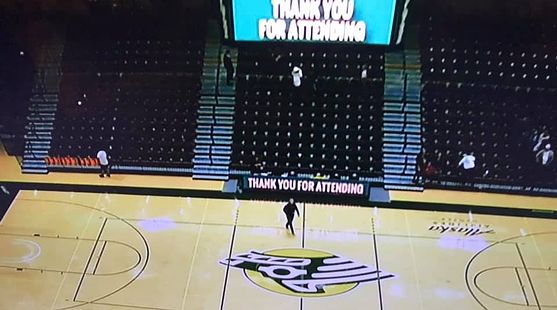 ANCHORAGE, Alaska---The Northern Michigan University men's basketball team rallied from a 21-point deficit to close to within three points late in the game, but came up short against the Alaska-Anchorage Seawolves, 84-76, late Saturday night in Anchorage, Alaska.

Northern trailed, 56-35, with 17:04 to play, and still trailed by 20, 62-42, with 12:00 to play. But the Wildcats went on a big run down the stretch, as Marcus Matelski, Sam Taylor, and Naseer Turner made back-to-back-to-back triples, with Alec Fruin contributing a blocked shot, and the Wildcats closed to within 72-69 with three minutes left to play.

But Anchorage's Tyrus Hosley hit back-to-back three-pointers to lead an 8-0 run that gave the Seawolves (6-2) an 80-69 lead, and they cruised from there.

Northern had jumped to a 10-4 lead early in the game as Noah Parcher and Myles Howard hit back-to-back triples. But the Seawolves made the first six three's they took and built a 46-31 lead at halftime.

Matelski led the 'Cats with 17 points, including five triples.

Fruin, who played 38 minutes, made seven of his 11 shots, had 15 points and five assists.

Myles Howard and Taylor both had ten points.

Tyler Brimhall had 17 points and Niko Bevins added 16 for the Seawolves.

NMU fell to 3-3 and will have their GLIAC opener against Northwood on Thursday.

FRIDAY NIGHT RECAP

All 13 Wildcats who suited up scored Friday night as the Northern Michigan University men's basketball team pounded Alaska-Fairbanks, 95-45, in Anchorage. Sam Taylor and Noah Parcher led the way with 14 points apiece.

Dolapo Olayinka scored eleven points and pulled down six rebounds. Xzavier Jones had seven points and seven boards for NMU (3-2).

The Wildcats led, 23-15, before finishing the first half on a 19-8 spurt to take a 42-23 lead at halftime. In the second half, NMU finished the game on a 35-15 spurt.

The win is the largest victory over a Division II opponent since the Wildcats defeated Wayne State University 110-51 in 1990.

Parcher started things off with a basket which Alaska answered. Junior Alec Fruin (Beloit, Wis.) added two free throws then sophomore Troy Summers (Grayling, Mich.) put in a layup to move the NMU lead up to 6-2 three minutes into the game. After another Nanook score, Fruin made another free throw and Summers scored again followed by a free throw by Taylor to make it 10-4.

The Nanooks cut the lead down to 10-8 but Matelski hit a three, then Taylor made a layup between two Alaska scores to make the score 15-12 at the 10:50 mark. The Wildcats answered with six points to make it 21-12 before an Alaska three.

Howard answered the three with a layup and Summers made two free throws to give the Wildcats their first double digit lead, 25-15 with seven minutes left to play. A free throw by the Nanooks cut it back to nine points before Taylor made a layup. After another Alaska free throw, Olayinka made a three but the Nanooks responded with four free throws which made the score 30-21.

The Wildcats answered with an and-one and two baskets by Parcher, followed by a lob from Taylor to Olayinka for the dunk to take a 39-18 lead with a little move three minutes left in the half. Parcher made a three to close out the half for NMU while Alaska made a jumper with a minute left to send the game into halftime with the Wildcats leading 42-23.

Alaska opened the second half with a layup but Parcher followed it with a jumper. After a Nanook free throw, Matelski made two threes followed by a Fruin layup and a three-pointer from redshirt freshman Ben Wolf (Naperville, Ill.) and Taylor. The 14-0 run ended with a Nanook free throw and NMU was leading 58-27 with a little under 13 minutes left to play.

Olayinka then hit two threes around an Alaska three, followed by a three-point play from Taylor which made the score 67-30 with ten minutes left in the game.

With 5:30 left, sophomore Marcus Krachinski (Perronville, Mich.) made two free throws to make it 74-34. Sophomore Naseer Turner (Chicago, Ill.) added a layup with 4:28 on the clock which gave the Wildcats a 77-36 lead.

At the 3:44 mark, sophomore Carson Wonders (Iron Mountain, Mich.) converted an and-one to move the NMU lead to 82-38. Redshirt freshman Hart Holmgren (Ishpeming, Mich.) made a layup with 1:53 left to make it 91-39.