Marquette Fires 47 Shots; Skate Past Eskymos, 6-1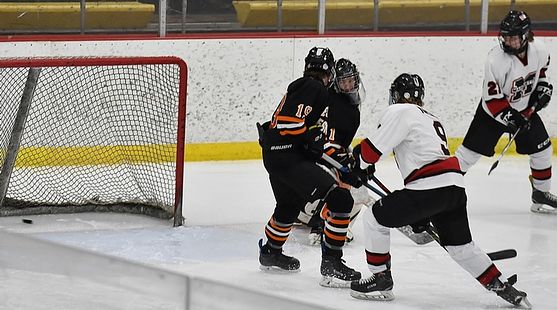 MARQUETTE---The Marquette Redmen fired 47 shots on goal and killed off five power plays Tuesday night to beat the Escanaba Eskymos, 6-1, at Lakeview Arena.

Eskymo senior goaltender Trevor Denome made 41 saves, including 30 stops in the first two periods as he kept his team in the game, trailing just 3-1 entering the third period.

But Marquette scored three times in the third period, with two of them coming off the stick of Evan Kroll, and the Redmen pulled away to the lopsided win.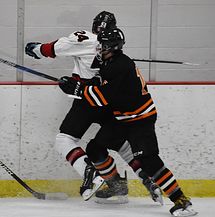 "I don't think we had a sense of urgency," Escanaba Coach Matt Hughes said. "We weren't chasing pucks, we weren't trying to battle for pucks. We took a period off. We were getting power play after power play after power play, and the guys were just not being intense with it."

"I just thought we took some dumb penalties and sometimes that's just frustration because we were putting a lot of pressure on them, but then we took some penalties in the offensive zone," Marquette Coach Doug Garrow said. "We''ve got to clean that up because when we play teams like we play this week, Saline, and Calumet next week, they have some high-end guys that can hurt you."

Marquette Freshman Ethan Phillips got his team off to a good start with a goal at the 5:17 mark of the first period.

But Redman senior Jake Peterson took two straight penalties late in the period, with the penalty-killers shutting down the Eskymo offense during both.

Then as Peterson came out of the penalty box, the puck went to him at center ice, and he skated in and snapped one past Denome to give Marquette a 2-0 lead.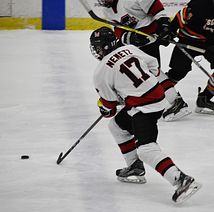 Marquette continued to get itself into penalty trouble, affording the Eskymos four more power plays in the second period. Escanaba cashed in one of them as Ethan Silverstone passed to Nick Kolich, who scored on the short side of goaltender Liam Beerman.

That cut it to 2-1 at the 5:51 mark of the period, but the Redmen got that goal back 49 seconds when Hogan Nemetz ripped one past Denome to make it 3-1.

While the Eskymos spent most of the rest of the period on the power play, they didn't control the puck very often.

Marquette outshot Escanaba, 19-5, in that period, despite spending nine minutes shorthanded.

Denome's best work came in that period as he stopped 18 of the 19 shots he faced.

"Trevor had a busy night," Hughes said. "47 shots, I believe he faced. That's way too many for us to give up. But, credit to Marquette for creatihg those chances. Obviously, we need to get a little better at keeping teams to the outside and forcing them to make a different decision other than peppering our goaltender."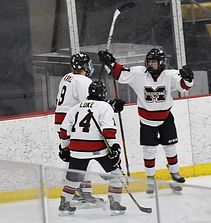 Kroll's first goal came at 4:01 of the third period after the Redmen cycled the puck for a solid 45 seconds. Denome stopped two shots, but the third one gave Marquette the 4-1 lead. Kroll scored again with 3:20 left in the game, then Joseph Luke scored with 27 seconds left in the game to make it a 6-1 final.

Marquette ended up outshooting Escanaba, 47-18.

"We have four lines that I feel confident putting anyone out there," Garrow said. "I think that might be an advantage for us because we can wear teams out a little bit. Tonight, we had contributions from many different people. I think right now, 16 of our 20 guys have points this year, so that's a well-balanced attack for us."

Marquette improved to 3-1 on the season, and will host Saline from the Ann Arbor area on Friday and Saturday. Escanaba fell to 1-2, and will host Sault Ste. Marie this Friday night at 7:00 and Saturday afternoon at 1:00.

Click the thumbnails in the ARTICLE HIGHLIGHTS box above to see photos and videos, and listen to post-game comments from Hughes and Garrow. Also listen to player spotlight interviews with Ethan Silverstone and Grant LaMarche.