Norse Women Can't Hold Leads; Fall In Port Huron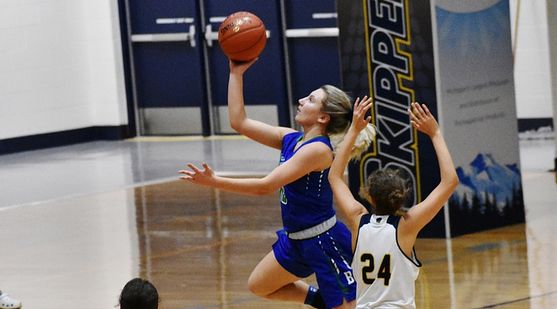 PORT HURON---The Bay College Norse women's basketball team had a nine-point lead on two occasions Friday night, but lost to St. Clair County Community College, 59-55, at the Skippers Holiday Classic in Port Huron.

The Norse committed 30 turnovers and went through a couple of dry spells on offense, and the defense gave up 27 points to SC4's Keishawna McGruder, including 14 points in the third quarter when the Skippers made their run.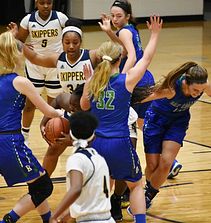 Early on, the Norse were in good shape, leading 16-7 before a SWC4 basket made it 16-9 after the first quarter.

The Skippers outscored the Norse, 11-2, to start the second quarter, taking their first lead at 20-18.

Bay responded with an 11-0 run, keyed by three-pointers from Holly Wardynski and Trisha McGuire. Kaitlyn Hardwick put back a missed triple as well, giving the Norse a 29-20 lead with two minutes left in the half.

Bay had to settle for a 29-24 lead at the half before McGruder went on her run in the third quarter.

Four of her points came on a three-point basket and a free throw after she was fouled on the play. The game went back-and-forth down the stretch before JuliAnn Wickman rebounded a missed shot, pushed the play up court, and passed to Haley Trudell in the corner. She buried a triple with 2:47 left to give the Norse a 53-52 lead.

But they couldn't build on that momentum, with a ten-second call and two bad passes helping to seal their fate. Trudell missed an open three in the final minute that also could have given the Norse the lead.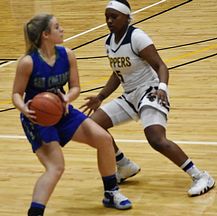 Bay dropped to 7-2 on the season while St. Clair County improved to 3-5.

Wardynski and Taylor Hunter both scored ten points, while Keshia Davis just missed a double-double with nine points and nine rebounds.

Besides McGruder's 27 points, HaLaya Cato scored 16 points for SC4.

The Norse face a stiff challenge on Saturday when they face undefeated and 14th ranked Mid Michigan. Game time is 11:00 a.m.

It will be broadcast on WGMV-Maverick 106.3 and on-line at www.radioresultsnetwork.com.

Click the thumbnails in the ARTICLE HIGHLIGHTS box above to see photos and videos and hear post-game comments from Coach Rob Robinson, and the player spotlight interview with Holly Wardynski.