Late Norse Rally Comes Up Short Vs No. 14 Lakers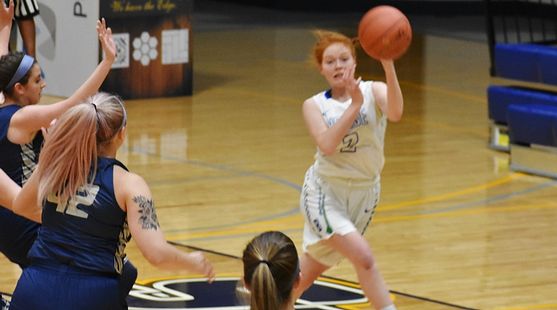 PORT HURON---The Bay College Norse women's basketball team lost to the Mid Michigan Lakers by 64 points last season. That embarrassing loss was not forgotten by the sophomores on this year's Norse team, and after the team had a disappointing loss to St. Clair County Friday night, the Norse were up for the task on Saturday.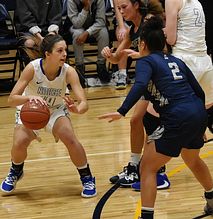 The Lakers led from start to finish, but the Norse staged a late comeback that cut a 19-point deficit down to single digits before falling to the nation's 14th-ranked team, 80-75, in Port Huron.

The Norse gave up 29 points in the first quarter, falling behind by ten points after the first ten minutes.

It was a 16-point game, 47-31, at halftime, but the Norse found their scoring touch in the second half, and the defense started to force some turnovers against a Mid Michigan team two women foul out and another have four fouls as the game ended.

Mid Michigan had just eight players suit up. The ones they have are, obviously, quite good. After JuliAnn Wickman put back a missed triple for a basket and a foul, Bay climbed to within 54-43 in the third quarter.

The Lakers responded as Savannah Peplinski knocked down a triple and EllieJohnson came off the bench to sink three three's.

In the fourth quarter, the Norse trailed, 74-57, before they made their run. Haley Trudell sank a three-pointer with 5:16 left to make it 74-60, then after Brooke Dalgord hit a couple of free throws, Marissa Ackerman took a hard charge at mid-court leading to another Norse possession.


That ended in two Wickman free throws, and Wickman sank a pair of technical foul free throws to climb to within 74-66 with 3:19 to play.

The Norse had chances to get closer but a couple of turnovers and a one-handed triple by Jordan Peplinski restored a 77-66 lead for the Lakers.

Bay cut it to 79-73 with 29.9 seconds left when Trudell missed a three and Wickman got the rebound, scored under the hoop, got fouled,, and made the free throw.

But the Norse couldn't get the steal, and since they had no team fouls in that quarter, had to spend five possessions committing fouls. That took the game down to its final seconds, and Madison Olsen's basket at the end made it a 80-75 final.

Wickman, a North Dickinson graduate in her second year on the Norse team, had a career-high 26 points, making ten of eleven from the foul line. Trudell had 20 points, including six three-point baskets.

Amelia McNutt led Mid Michigan (9-0) in scoring with 24 points, making four triples and sinking six of her eight free throw attempts. Steffi Kracko had 20 points, six rebounds, six steals, and just one turnover.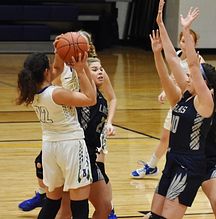 Mid Michigan shot 50-percent, 23 of 46 from the field, and made 11 of 22 three-point baskets.

The Norse outrebounded the Lakers, 33-24.

Besides Wickman's 26 and Trudell's 20, Dalgord had six points and nine rebounds.

Bay College fell to 7-3 on the season.

The Norse are home for the annual holiday tournament next Saturday and Sunday.

The ladies host Harper College at 6:00 Saturday night and will take on Milwaukee Tech Sunday afternoon at 2:00. Both games will be broadcast on Maverick 106.3 and www.radioresultsnetwork.com.

Click the thumbnails in the ARTICLE HIGHLIGHT box above to see photos, videos, and listen to post game comments from Coach Rob Robinson. Also click to hear Taylor Hunter's player spotlight interview.