Saginaw Valley Pulls Out Hoop Win Over Northern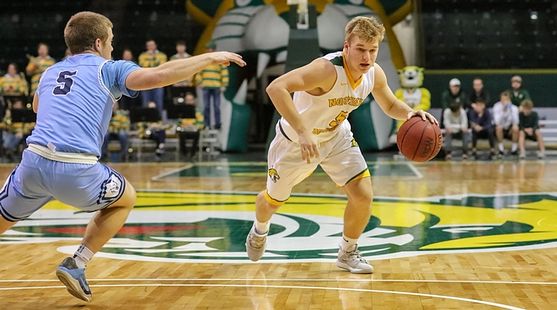 This story was written by NMU Sports Information
MARQUETTE---The Northern Michigan University men's basketball team (3-5, 0-2 GLIAC) fought hard but fell to Saginaw Valley State University (5-3, 1-1 GLIAC) Saturday afternoon, 64-58.

The Cardinals were the first to get points on the board, but sophomore Troy Summers (Grayling, Mich.) answered back with a layup shortly after.

At the end of the first half the Wildcats looked to bounce back, down 28-35. The Wildcats chipped away at the Cardinals' lead in the second half. With ten minutes left, NMU was down by just two points, 43-45.

The Cardinals in the end won the, narrowly outscoring the Wildcats 64-58
Senior Sam Taylor (Chicago, Ill.) lead the team with a total of 17 points.

Behind Taylor was sophomore Summers who had 11 points and freshman Noah Parcher (La Crosse, Wis.) with 10.

Senior Marcus Matelski (Boyne Falls, Mich.) lead the team with five rebounds.

Summers started the half with a two-pointer, shrinking the Cardinal lead. Parcher was the next Wildcat to add two to the board. 15 minutes into the half Taylor got his first points of the game to pull the Wildcats within one, 6-7.

The Cardinals maintained the lead throughout the first half, but the Wildcats continued to add baskets, not allowing the lead to grow. After the first 20 minutes of play, the Wildcats trailed 28-35.

Matelski added three to the board early into the second half, dwindling the Cardinal lead, 32-40. Parcher they had a two-pointer, followed by Summers making a field goal from within the paint.

Senior Myles Howard (Chicago, Ill.) picked up a rebound soon after, following with a layup making the score 40-43.

With 10 minutes left in the game, the Wildcats trailed by two with Howard finding the basket again.

Taylor got netted a three-pointer, chipping the Cardinal lead to 54-55 with just 4 minutes left in the game. Ben Wolf (Naperville, Ill) made a layup adding another two to give the Wildcats the 56-55 lead late.

Following a Cardinal answer, Taylor added a basket making the score 58-59 with 1:20 left but the Wildcats ultimately fell to the Cardinals, 64-58.