TUNE-UP VICTORY: Bay Tops Hawks; MATC Next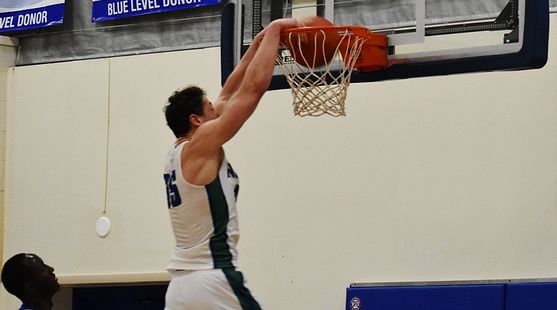 ESCANABA---The Bay College men's basketball team tuned up for its big game against #8 Milwaukee Tech by beating Harper College, 97-64, Saturday night in Escanaba.

All 13 Norse players scored as Bay took a 12-point lead halfway through the first half and never had its lead cut below double digits the rest of the game.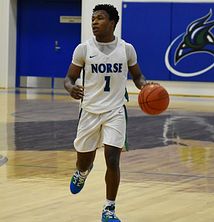 Still, the Hwwks battled throughout the game, despite a 1-10 record and trailing by double figures all night long. Michael Nowakowski had an outstanding game with 27 points. Paul Kokosoulis added 17 points for the Hawks.

"They competed until the very end, up until the final buzzer went off," Norse Coach Matt Johnson said. "We were up with a fairly comfortable lead at halfdtime (46-29) but I was nervous because I knew that they weren't going to quit. Thankfully, we matched their shots and we went on a bit of a run."

The Norse got a spark from Brimley High School graduate Marcus Harris, who drained a pair of triples and scored in the lane during a short period of time. He ended up with 11 points as he continues to rebound from an off-season ACL and MCL injury.

"It felt nice being out there," Harris said. "Just playing hard, not trying to rush anything. I'm feeling like I'm almost back to my normal form."

Fellow Eastern U.P. standout, and roommate in Bay College Apartment Two, Tristan Masuga of Cedraville had a scoring spurt in the second half, making seven of his ten field goals for 15 points off the bench.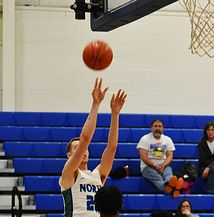 "We were just having fun out there," Masuga said. "Everyone was just going hard, it was fun to be on the court with everybody. Everybody was just moving really well together on offense. We knew that we couldn't look past Harper College."

Kingsford graduate Tyler Beauchamp made his debut after missing all of the team's games with a foot injury. He scored seven points on 3-of-5 shooting from the floor.

Negaunee's Luke Mattson scored nine points on 4-of-5 shooting, including a three-point basket. Ishpeming's Dondre Yohe was 3-for-3 and scored eight points.

Next up, on Sunday, it's the Milwaukee Area Technical College Stormers. They are the eighth-ranked team in the country, and are 10-1 after beating St. Clair County, 94-76, earlier on Saturday. MATC whipped Bay, 111-76, earlier this season.

"They are incredibly good," Johnson said. "They play really, really fast. They put a ton of pressure on you defensively. They try to make life miserable, and they're very, very good at doing so. We have to come focused and prepared."

"I think we're ready," Masuga said.

Tip-off is 4:00. The game will be broadcast on Maverick 106.3 FM and on-line at www.radioresultsnetwork.com.

Click the thumbnails in the ARTICLE HIGHLIGHTS above to hear post-game comments from Masuga, Harris, and Coach Johnson. Also listen to Ryan Robinette's player spotlight interview.