WEATHERING THE STORM: Norse Women Win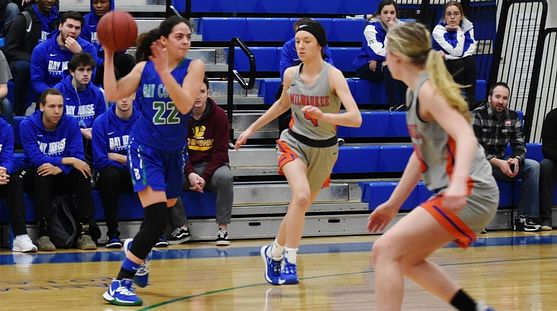 ESCANABA---The Bay College women's basketball team held off a spirited challenge from the Milwaukee Tech Stormers on Sunday afternoon, posting an 82-65 win at the Bay College Gym.

The Stormers rallied from eleven points down to close to within one point at 44-43 in the third quarter before the Norse hit three straight triples to regain control of the game.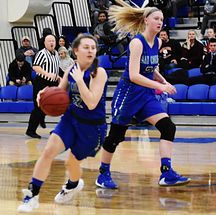 It was a very physical game, but the Norse eventually wore the Stormers down in the final minutes as they pulled away to the win.

"They (officials) let a few things go, and it gets dirtier," Norse Head Coach Rob Robinson said. "In the first half, Brooke Dalgord had scratches all over her arm, but he's like, 'no, they're not touching her'. I was like, 'I can see it on her arms!'"

Gladstone High School graduate Taylor Hunter was shaken up twice during collisions during the game, but got the last laugh in the fourth quarter when she scored a basket, stole the inbounds pass, and scored again for four quick points. That turned a 67-59 Norse lead into a 71-59 advantage.

"It was physical the whole game, right to the very end," Hunter said. "We knew coming in that they were a physical team and they were gonna make us work, which they should, and we make them work, so it's good competition."

And what about those four quick points that turned the tide?

"I kind of needed that confidence booster," Hunter said. "I know what I can do out there, so I just went out and did it, and then my team pumped me up, so it was a good feeling."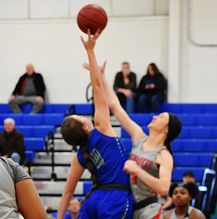 Robinson was impressed, though, with the Stormers' tenacity.

"But what I don't understand is why they (Milwaukee Tech) have to work harder against us than they did their previous seven games," Robinson said. "They worked hard! Last night (against St. Clair County) they walked around like they were in a daze. But today, even against our pressure, they just never gave up. I give them a lot of credit for just going and going and going and going."

Milwaukee's Kennedy Perry was on fire early, scoring her team's first eleven points. The Norse, however, got back-to-back triples from Trisha McGuire, Brooke Dalgord scored off a nice McGuire bounce pass, and Holly Wardynski scored on a tough shot in the lane to give Bay a 26-17 lead after one quarter.

In the second quarter, Jasmine Malone scored nine points and the Stormers closed to within 42-38 at the halftime break.

Keyara Joy'e three-pointer closed it to 44-43 before Dalgord hit two triples and Brooke Mannor got a friendly bounce on another triple try to make it 53-43.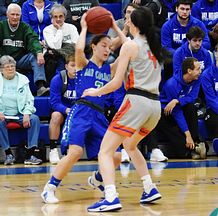 Two triples by Malone (she had five on the day) got MATC to within 67-59 before Hunter's four points led the Norse on a 18-6 run that ended the game.

Hunter had 14 points, while Wardynski and Dalgord both added 12. JuliAnn Wickman came off the bench to score eleven points. Dalogord also had five assists and five rebounds for the Norse.

Malone had 23 points and Perry added 22 for MATC (5-7). Bay College improved to 9-3 on the season. The Norse travel to Minnesota next weekend for games on Saturday against Western Technical College on the campus of Anoka-Ramsey Community College.

The game starts at 2:00 ET and will be broadcast live on WGMV-FM (Maverick 106.3) and radioresultsnetwork.com.

Click the thumbnails in the ARTICLE HIGHLIGHTS box above to see photos and video clips, and hear post-game comments from Hunter and Robinson. Also hear Brooke Mannor's player spotlight interview.