Eskymos Overcome Simonsen, Gremlins In Opener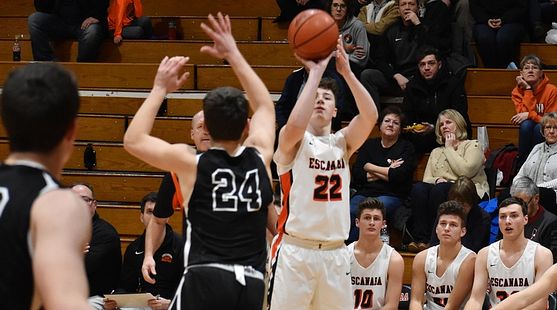 ESCANABA---Brad Simonsen scored 33 points for the Houghton Gremlins, but the Escanaba Eskymos had four players score in double figures and the Eskymos cruised to an 82-50 win in their home opener on Tuesday.

Simonsen, a Michigan Tech University commit, scored 22 of Houghton's first 27 points, and scored 22 of his 33 points after halftime. He did it from both inside, and from outside the arch. But the Eskymos had more depth and they found their shooting touch.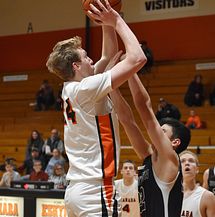 "He's a great player," Escanaba Coach Tracy Hudson said of Simonsen. "He's got the three and he can beat you off the dribble. He plays hard and he's just a great leader. I think every team's objective is to slow him down. You can't stop him. He had a great game."

As for his team, who shot 1-for-14 from downtown in the first half only to make twelve triples in the second half?

"We have really great shooters," Hudson said. "At halftime, I said, basically 'go inside-out and, share the ball, and it'll come'. I said, 'we need one more pass, and take care of each other, and they started falling in the second half."

Indeed, sophomore Connor Smale, who made the team's only triple in the first half, sank four of them in the second half. He led the Eskymos with 17 points.

'''It felt really good, being our first home game, and be up by 32," Smale said. "I think we went 1-for-14 in the first half, so I just told our team, just keep shooting, just keep shooting, guys. We're shooters. So, we started to knock them down and grew the lead."


In one sequense, Smale missed an open triple, the Eskymos got the offensive rebound, kicked it to him, and he missed again. They got another offensive board, kicked it back to Smale in front of his bench. That time, he buried the three with a big grin.

"Shooters shoot, so I'm just gonna keep on shooting, no matter what," Smale said.

Peyton Fedell knocked down four three-pointers and had 16 points. Carter Hudson scored 17 points, adding a triple of his own. Matt Seymour was the fourth player in double figures with ten points and Bryant Maki contributed eight points.

Escanaba improved to 2-1 on the season and will play two games at a tournament in Cedarburg, Wis., this Friday and Saturday.

Click the thumbnails in the ARTICLE HIGHLIGHTS box above to see photos and video clips, and interviews with Hudson and Smale.