Bark River-Harris Hosts Quad Meet To Honor Vets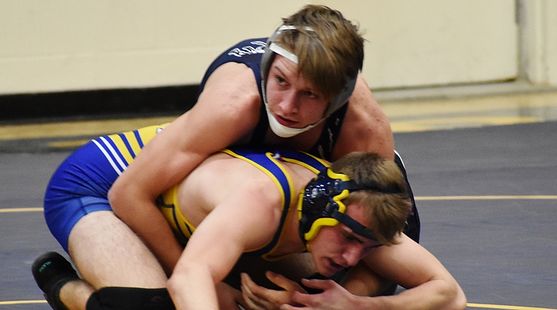 HARRIS---The Bark River-Harris Broncos beat the Kingsford Flivvers, 39-21, and topped the Manistique Emeralds, 48-32, to win the annual Veterans Quad Meet Thursday night at the Bark River-Harris Gym.

Manistique edged the Gwinn Model Towners, 36-30, before the Model Towners completed the quad meet with a 28-18 win over Kingsford.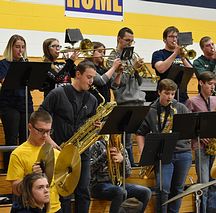 It was a night where veterans were invited to come and be recognized, and they were honored during a pre-game ceremony in which the BR-H band played the fight songs of all of the military branches.

The four wrestling teams' players and coaches then lined up and shook hands with all of the veterans. The admission fees, and the proceeds from a 50/50 raffle table, were all raised for the U.P. Honor Flight, which sends veterans to Washington, D.C., to see the monuments that have been erected in their honor several times a year.

BARK RIVER-HARRIS 39, KINGSFORD 21---The Broncos got wins from Devon Kurtz (140 pounds), Drew Allgeyer (145 pounder, a North Central student on the BR-H team), Hal Burton (171 pounds), and Austin Kleiman (189 pounds). The Flivvers got wins from Josh Peterson (152 pounds), Elliot Johnson (215 pounds), and Troy Janosky (heavyweight).

MANISTIQUE 36, GWINN 30---Tylor Greene picked up a pin over Konner Roberts at the 45 second mark at 140 pounds to lead the Emeralds. Gwinn got pins from Xander Luoma (125 pounds, over Austin Mischel), Doug Larson (152 pounds, over Josiah Gilroy), Tyler McMillian (160 pounds, over Brendan Slater), and Colton Berglund (215 pounds, over Jaydon Endsley). The Emeralds won due to numerous Gwinn forfeits.

GWINN 28, KINGSFORD 18---The Model Towners got pins from Doug Larson (152 pounds, over Trent Maki), Levi Dupras (189 pounds, over Omer Nevils), and Colton Berglund (215 pounds, over Troy Janosky). They also got a major decision win from Tyler MacMillian (160 pounds, over Logan Coulliard). Kingsford got a pin from James Cain (140 polunds, over Konner Roberts) after just 12 seconds of wrestling.

BARK RIVER-HARRIS 48, MANISTIQUE 32---The Broncos got wins from Clayton Eichhorn, Drew Allgeyer, Hal Burton, Jacob Wandahsega, Austin Kleiman, Josh Riley, and Daniel Dani to complete the quad sweep. Manistique got wins from Jacob Berry and Issac Brewster. Other matches were deciced by forfeits and double forfeits.

Click the thumbnails in the ARTICLE HIGHLIGHTS box above to see photos and video highlights. Also listen to the pre-game ceremonty featuring the BR-H band, and comments from BR-H Coach Joe Racicot and Manistique Coach Mat Gonzalez.