HOME SETBACK: Wildcats Fall To Ripon College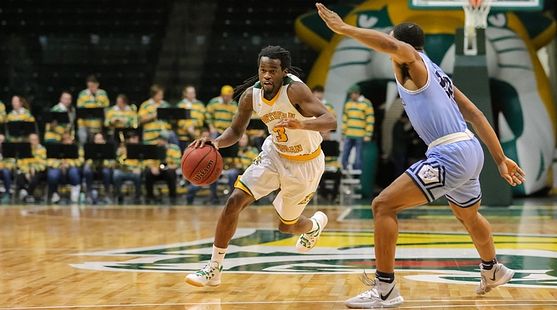 This story was written by NMU Sports Information

MARQUETTE, Mich. – The Northern Michigan University Men's Basketball team took on Ripon College in nonconference action Saturday but fell to the Red Hawks 80-75.

Five players reached double figures for NMU with senior Sam Taylor (Chicago, Ill.) and sophomore Dolapo Olayinka (Chicago, Ill.) both leading the way with 15 points.

Senior Marcus Matelski (Boyne Falls, Mich.) tallied 12 points with senior Myles Howard (Chicago, Ill.) adding 11. Junior Alec Fruin (Beloit, Wis.) chipped in with 10. Freshman Noah Parcher (La Crosse, Wis.) aided the effort with nine points.

Seth Kostroski led Ripon College (5-4) with 16 points. Ryan Steffes added 15 and Trent Jones scored 14 points. The Red Hawks are an NCAA Division Three school from eastern Wisconsin.

Howard and Olayinka also notched their first double-double of the season after Howard grabbed a season high 12 rebounds, including five offensive rebounds and Dolapo snagged 10 total, four offensive. It was the second double-double of Howard's career.

Parcher led the team with four assists with Taylor and Fruin adding three each. Taylor also posted a season-high five steals.

Parcher scored the first points of the game and NMU was able to jump out to a 9-4 lead about four minutes into the game with a Taylor steal and layup. Ripon was able to answer and pulled ahead 13-11 but NMU quickly tied the score.

Throughout the first half the teams continued to exchange leads, with neither team able to get a lead larger than four points, but Ripon was eventually able to take a 35-34 lead into halftime.

The Wildcats and Red Hawks continued their back and forth to a 46-46 tie with 12:41 on the clock. The Red Hawks managed to jump ahead four points, but Olayinka scored four points to tie it again.

After Ripon scored, Parcher hit a three to give NMU the 53-42 lead with 9:19 to play. Howard added a free throw and Wolf dunked to give the Wildcats a 56-52 lead with a little under eight minutes to play. With the score 58-57, Matelski made his second three-pointer of the day to give the Wildcats a 61-57 lead at the six minute mark.

However, back to back threes by Ripon, a free throw, and an old fashioned three-pointer gave the guests a 67-61 advantage with four minutes left. Howard dunked to narrow the gap, but another three by the Red Hawks gave Ripon a 70-63 lead with 2:55 to play.

Matelski answered with a three of his own, then Olayinka answered a Ripon three with his own from behind the arc. Fruin got the lead down to 73-71 with a jumper with 1:26 left, but Ripon responded with a layup and two free throws to pull ahead 77-71. Ripon added three free throws, and a Matelski free throw and Taylor three weren't enough for NMU as the Wildcats fell 80-75.

The Wildcats fall to 4-7 on the season and will enjoy a break from action before returning to Great Lakes Intercollegiate Athletic Conference action January 2 where they will take on Ashland University in the Berry Events Center.