ANOTHER CLOSE LOSS: Norse Women Fall, 65-60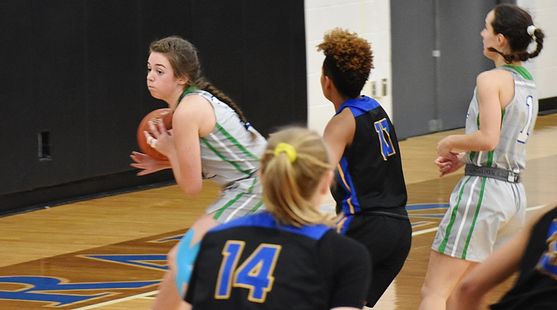 COON RAPIDS, Minn.---It was a constant uphill struggle for the Bay College women's basketball team on Sunday night as the Norse fell to the Anoka-Ramsey Golden Rams, 65-60, in the Minnesota suburbs. The loss wrapped up an 0-2 road trip for the Norse as the team's record fell to 9-5 entering the holiday break.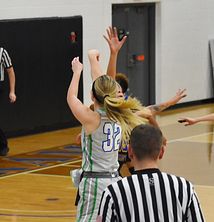 The Norse trailed, 17-9, after the first quarter, and were behind, 28-19, until a seven-point run got them back in the game. Madison Olsen came off the bench to bank in a three-point shot during that rally, and Cierra Molina also knocked down a triple in a reserve role. The Rams led, 31-26, at halftime.

In the third quarter, the Norse made another run at the Rams, with Haley Trudell knocking down a three-pointer to tie the game at 35-35. That was Trudell's 38th three-pointer of the season, setting a Bay College single season record for three's with half of the season still to come.

Kaitlyn Hardwick had a monster second half, making a basket off a Trish McGuire inbound pass to give the Norse their first lead. Later in the quarter, she had a basket after getting two offensive rebounds off of misses, and Bay had a 37-35 lead.

Hardwick had 13 points of her 15 points in the second half. Hardwick also led the Norse with nine rebounds.

The Rams (7-4) answered the Norse challenge. Nana Montgomery came off the bench for a triple and lay-up, and Charo Nickens was tough to guard as she used a quick dribble-drive to attack the weak side of the Bay defense.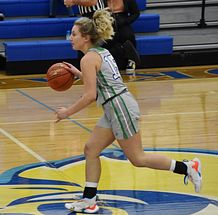 Nickens had 20 points and 12 rebounds, including 14 second half points for Anoka.

Another Hardwick basket had tied the game at 42-42, but 15-4 run for the Rams capped by a Maddi Peschel layup turned Bay's comeback efforts into a 57-46 deficit with 5:21 left.

But the Norse still weren't done, as Trudell made her third triple of the game to cut it to 57-51, and Holly Wardynski got a pass off to Hardwick for a bucket to cut it to 58-53 with three minutes to play.

A pair of McGuire free throws with 1:43 left made it a 59-56 game, but the Rams scored two free throws of their own by Adaya Sanifer (who had missed three of her first four at the line) to make it 61-56. McGuire got fouled again and make two more foul shots to cut it to 61-58 with 1:19 left in the game.

The Bay defense forced two turnovers, but they couldn't cash in on offense. Hardwick missed an open jumper with 30 seconds left, then with Marissa Ackerman on the bench after fouling out, Bay's last chance ended on a traveling call to Molina with 23 seconds left. Sandifer salted it away with two more free throws and the Norse had their fourth close loss of the season (by six points or less).

Bay College is off until after the holidays, when the Norse will host a four-team tournament in Escanaba on Jan. 3-4.

Click the thumbnails in the ARTICLE HIGHLIGHTS box above to see photos and videos, hear Coach Rob Robinson's post-game comments, and hear Kelsea Ackerman's player spotlight interview.