Eskymos Come Up Short Against No. 4 Eaglets, 4-1

ALPENA---The Escanaba Eskymos got a power play goal from Kyle Krutina, and goaltender Trevor Denome made 37 saves, but the Eskymos lost to the fourth-ranked Division One team in the state, Orchard St. Mary, 4-1, Friday night in Alpena.

It was a game that featured a penalty shot for each team in the first period, and it was a game that was played with only one intermission break to speed up the action.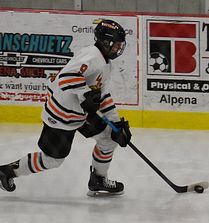 Denome stopped the penalty shot attempt when Matt Kuphal tried for the deke and didn' get off his best attempt. Moments later, Eskymo freshman Sawyer LaMarch was also granted a penalty shot when he was taken down in the Orchard Lake zone.

LaMarch went to his backhand, but goalie Ryan Smith made the save.

Kuphal got revenge later in the period when he scored the Eaglets' first goal, but the Eskymos went to the power play immediately afterwards, and Krutina cashed in after the Luke Labre point shot and 39 seconds after Kuphal's goal, it was 1-1.

It stayed that way largely because of Denome, who made 16 saves in the first period.

Then in the second period, the Eskymos ran into penalty problems. Trevor Streichert went into the box first, and a minute later, Krutina followed him.

The Eskymos killed off the 5-on-3 portion of the power play, but the Eaglets scored the goa=ahead goal with 9:50 gone by in the period.

The teams went to the dressing rooms there because under this format, you play a period and a half, and then the ice is resurfaced, before the rest of the game is played.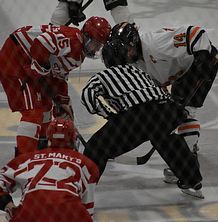 After the break, the Eaglets completely dominated. The Eskymos had very little puck possession time, and Orchard Lake put the game away with Kuphal's second goal and a pretty tip-in goal by Luke Millmine.

The Eaglets outshot the Eskymos, 41-24. Orchard Lake improved to 4-7-1 on the season with its second straight win. The team is ranked highly in Division One because of the incredibly difficult schedule filled with strong Detroit-area teams.

Escanaba fell to 5-3 on the season and will play host Alpena in the third place game Saturday morning at 11:45.

The game will be broadcast on WCHT-AM (NewsTalk 600) and on-line at www.rrnsports.com.

Click the thumbnails in the ARTICLE HIGHLIGHTS box above to see photos and videos, and hear Hughes' post-game comments. Also hear player spotlight interviews from Kyle Krutina and Braden Reinhart.