DOUBLE DIP: Escanaba Gets Two Basketball Wins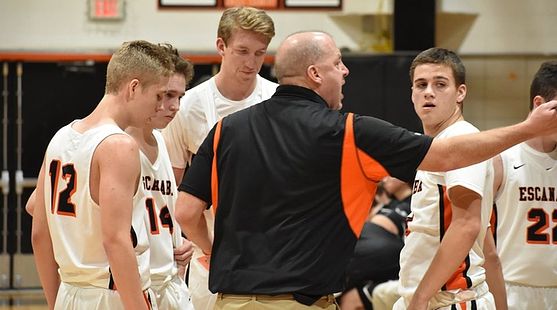 ESCANABA---The Escanaba High School basketball teams swept two rivalry games from the Gladstone Braves Friday night, winning the girls game in overtime, 70-62, and then running away with the boys contest, 78-64.

Escanaba also won both the girls and boys junior varsity match-ups.

ESKY GIRLS OUTLAST BRAVES: The girls varsity game was close all night, and it came down to the wire. Escanaba led, 16-14, after one quarter, but the Braves had a big second quarter and led, 31-28, at halftime, as Nicole Kamin was kept completely off of the scoreboard.

The Braves led, 57-55, as Taelor Zeise scored on a put-back with 49 seconds to play. But Escanaba's Bailey Barron tied the game with 18 seconds left on the clock.

It appeared Gladstone might have a chance to win it as Maddie Ahlgren got a steal and drove to the basket in the final second. She was fouled, but did not go to the free throw line because the Eskymos had two fouls to give. So it went to overtime tied at 57-57.

Eskymo senior Taylor Ray had back-to-back three-pointers to give her team a six-point lead. Gladstone senior Megan Crow got a triple of her own to bring the Braves to within three, but Eskymo freshman Mari Bink had the big steal in the final seconds and the Eskymos salted the game away at the free throw line.

Ray led the Eskymos with 20 points. Barron and Bink both scored 15 points and Kamin ended up with 12. Crow led the Braves with 24 points, while Zeise contributed 14.

ESKY BOYS ON CRUISE CONTROL: The boy's game did not go down to the wire as the Eskymos pulled away with a big second quarter.

Escanaba led, 16-12, after the first quarter, and went on an 11-4 run to start the second quarter as Carter Hudson dominated in the paint. That made it 27-16, and the Eskymos closed the half on another 11-2 run with Hudson this time nailing a three-pointer to make it a 42-23 Eskymo advantage. Hudson scored 19 points in the first half.

In the third quarter, Connor Smale and Peyton Fedell both hit triples as the Eskymos grew their lead to a0, at 57-37. Gladstone would not get closer than 12 from there.

Hudson ended up with 24 points anford Fedell added 17 for Escanaba. Cam Ballard had 19 points and Rane Castor added 18 for Gladstone.