Norse Women Roll Past Sault College To Start 2020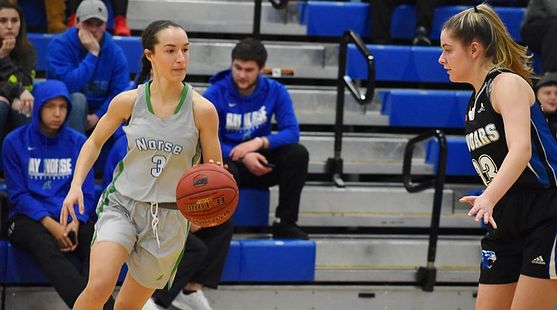 ESCANABA---The Bay College women's basketball team opened 2020 with a rather easy victory over the Sault College (Ontario) Cougars, 92-37, Friday night, in Escanaba.

The Norse led, 25-3, after the first quarter, not allowing a single basket in the first ten minutes of play. Bay was on cruise control from there, as all 12 players who suited up scored at least once in the contest.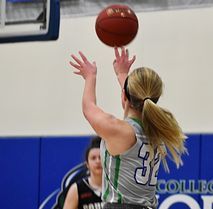 Haley Trudell scored 18 points, including four three-pointers, as she continues to add to her single-season record for three-pointers. She now has 42 triples on the season.

Holly Wardynski had a strong game, scoring 17 points and dishing out five assists, four of them in the first half. Trisha McGuire added 13 points as she knocked down three triples.

As a team, Bay hit 13 of the 34 three-point baskets they attempted, with nine different players nailing three's. Bay also made 13 of 15 free throw attempts in the victory, and made 33 of 70 shot attempts from the floor. Silyar Toms led the Cougars (0-11) with 16 points, including four long three-point baskets.

In the first women's game of the day, Western Technical College (Wis.) defeated Gogebic Community College, 65-55, in a game that was not as close as the final score. The Cavaliers led by as many as 25 points in the game, led by Lexi Schmidtknecht's 14 points. Gogebic got 14 points from Haley Grover.

Bay College (10-5) will get another shot at Western Tech on Saturday, as the teams have met twice this season, with the Cavs winning easily in LaCrosse and by five in Minnesota.

Saturday's game starts at 3:00 ET and can be heard live on Maverick 106.3 FM on on-line at www.radioresultsnetwork.com.

Gogebic will face Sault College in the third place game at 11:00 a.m. ET.

Click the thumbnails in the ARTICLE HIGHLIGHTS box above to see photos and videos from both of Friday's women's games. Also hear Cierra Molina's player spotlight interview and Wardynski's post-game comments.