Wagner Clutch As Bay Men Beat Sault College 81-77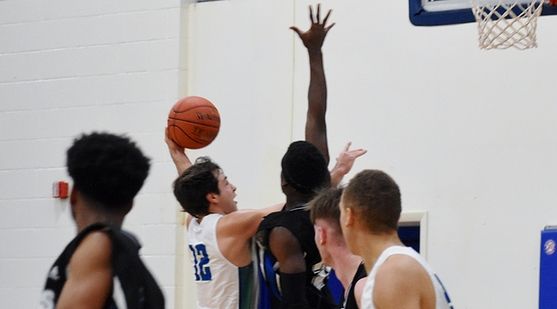 ESCANABA---The Bay College men's basketball team had a battle on their hands Friday night as the Sault College (Ontario) Cougars came to town with a 1-10 record. The Cougars played an inspired game, battling back several times, before the Norse pulled it out at the end, 81-77.

Matt Wagner's three-pointer from the right wing gave Bay a 78-77 lead with 1:07 left in the game after the Cougars had erased a double-digit deficit on two occasions.


The Cougars got a monster game from Simon Wal, who scored 32 points, including a four-point play on a contested triple and foul shot with 2:32 left that tied the game at 75-75.

Then after Bay's Chris Dobessi missed a jump shot, the Cougars pushed the ball up the court and Stephen Miller scored on a driving lay-up to give the Soo the lead.

But Wagner, who won Bay's double-overtime thriller over Mid-Michigan last month with a triple, came through with another deep three to make it 78-77. Then after a Sault miss, Wagner took a Tristan Masuga pass on the baseline and scored underneath the hoop and got fouled.

That made it 80-77, and Wagner, one of the team's best free throw shooters, missed. He was the only Norse player on the line, but got the rebound against five Cougars.

Christian Alexander got fouled and made one of two free throws to seal the game.

Wagner led the Norse with 24 points. Masuga had a fine game as well, mixing in his long-range and mid-range shots to finish with 18 points.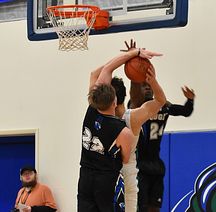 Alexander contributed seven points and ten rebounds, and had a dunk that electrified the crowd during a second half run that saw the Norse build an eleven point lead before the Cougars came back. Anthony Hall scored 14 points and Kevon Clarke added 12 for the Cougars (1-11).

In the first men's game of the day, the Western Tech (Wis.) Cavaliers jumped to a big lead in the first half and cruised to a 76-57 win over Gogebic Community College.

Brian Huneck scored 13 points, while Hunter Davis and Anthony Crump both scored 12 points for the Cavs. Mitch Borseth had 11 points and Raquentez Woodley had ten points for the Samsons.

So Bay College (9-6) will face Western Tech (5-6) Saturday night at 5:00. The game will be broadcast live on Maverick 106.3 FM and radioresultsnetwork.com. The third place game between Sault College (1-11) and Gogebic (2-11) will start at 1:00 ET.

Click the thumbnails in the ARTICLE HIGHLIGHTS box above to hear post-game comments from Wagner, and to see photos and videos from both of Friday's games.