THIRD TIME'S THE CHARM: Norse Stop Cavaliers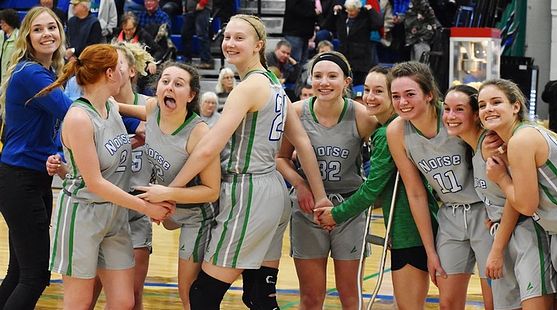 ESCANABA---The Bay College women's basketball team picked up its biggest win of the season Saturday night, beating the Western Tech Cavaliers, 65-49, in the championship game of the Quality Inn & Suites Tournament in Escanaba.

The Norse had lost twice to the Cavaliers this season, including once in LaCrosse by 29 points on Nov. 9. Bay then lost to Western Tech on a neutral court in Minnesota, 69-65, just before Christmas, when they made only 13 of 31 free throw attempts.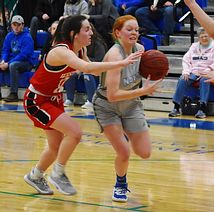 So on Saturday, the Norse had extra incentive to do things the right way, and for three-plus quarters, it was a nailbiter before the Bay defense clamped down and Trisha McGuire took over on offense. And the foul line for friendly for a change.

The Norse led just 39-38 entering the fourth quarter, and after Western Tech's Jaclyn Freit scored on a layup with 5:48 left in the game, Bay's lead was just 50-48.

Who knew that the Norse would outscore Western Tech the rest of the game, 15-1?

And who knew that they would do much of the damage at the free throw line, which had let them down in the previous matchup.

Holly Wardynski, Marissa Ackerman, and Kaitlyn Hardwick all went to the line and sank both of their free throws down the stretch. And McGuire scored nine of her game-high 18 points in the fourth quarter.

As a team, Bay made 15 of 17 free throw attempts. The Norse also made 8-of-28 three-point attempts, while the Cavaliers struggled to make only 2-of-16 triple tries.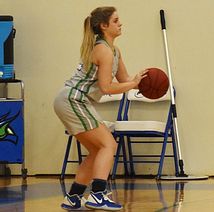 Western Tech's Lexi Schmidtknecht, who had burned the Norse in both previous match-ups, was quiet on Saturday, scoring just seven points. The Cavaliers fell to 10-4 on the season.

Bay College (11-5) got eleven points from Wardynski and Hardwick to go along with McGuire's 18 points.

JuliAnn Wickman added seven points and seven rebounds, and Dalgord had nine boards.

In the third place game, Gogebic Community College beat Sault College (Ontario), 89-57.

The Norse travel to Minnesota on Tuesday for a game against St. Catherine's University's JV team. The game starts at 6:00 ET and will be broadcast on Maverick 106.3 FM and at www.radioresultsnetwork.com.

Wardynski was named the Tournament Most Valuable Player.

Click the thumbnails in the ARTICLE HIGHLIGHTS box above to see photos and videos taken by Nate Belleville. Also listen to post-game comments from McGuire, Hardwick, and Coach Rob Robinson. Also listen to Brooke Dalgord's player spotlight interview.