Braves Pull Away In Fourth To Stop Model Towners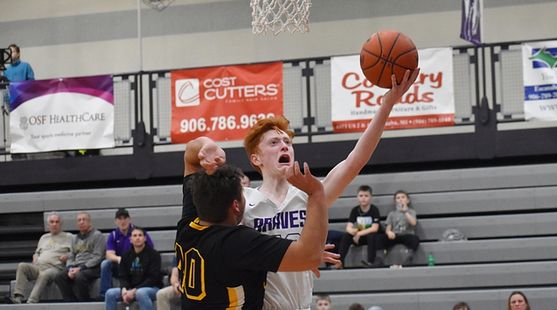 GLADSTONE---The Gladstone High School boys basketball team outscored the Gwinn Model Towners, 19-6, in the fourth quarter, and pulled away to post a 75-56 win Friday night in Gladstone.

"Give Gwinn credit, they came ready to play," Gladstone Coach Dane Quigley said. "I don't feel we came out and matched their intensity right away. I feel like we did a better job of that, particularly, in the fourth quarter. That's what it takes to beat these teams. It came down to the fourth quarter, and that's what we did to pull a win off."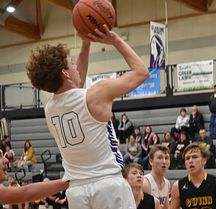 Gladstone led by ten at halftime but the Model Towners, led by the shooting of James Harnick, closed to within four in the final seconds of the third quarter at 54-50. The Braves closed the quarter on a nice out-of-bounds play to Lucas Hughes for the lay-in at the buzzer, then scored the first nine points of the fourth quarter to put it away.

That fourth quarter run inclued "and-one" baskets by Rane Castor and Cam Ballard, and a transition basket by Ryan Polley.

The defensive effort from Polley, Jaret St. John, and Noah Ballard was strong on several straight possessions in that fourth quarter.

Cam Ballard led the Braves with 25 points and Castor chipped in 18 points.

"We had to just pressure them right away (in the fourth quarter)," Cam Ballard said. "We had a comfortable lead going into the fourth, by a few points, and we didn't want to force up any shots. We just had to keep getting good looks and play good defense."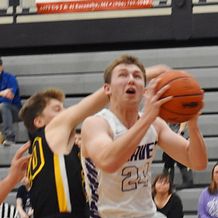 "Cameron played real well, I thought Rane played real down down the stretch," Quigley said. "I thought Ryan Polley down the stretch played some great defense, and I thought Jaret St. John, on both ends of the floor, had a great game tonight. He finished with like seven, nine points, and played a great game defensively again."

"All around, a good effort from a bunch of our guys."

Harnick had 23 points and Nick Lightford added 13 for Gwinn.

The Model Towners fell to 1-5 on the season and will travel to Houghton Wednesday night. The game will be broadcast on WUPZ-FM (94.9 The Bay), and on-line at www.radioresultsnetwork.com.

Gladstone broke a three-game losing streak and improved to 3-3 on the season. The Braves travel to Westwood on Tuesday night. The game will be broadcast on WCHT-AM (NewsTalk 600), and on-line at www.rrnsports.com.

Click the thumbnails in the ARTICLE HIGHLIGHTS box above to see photos and videos from Friday night's game.