BAY'S BIG BRIT: Alexander Has Eye On Next Level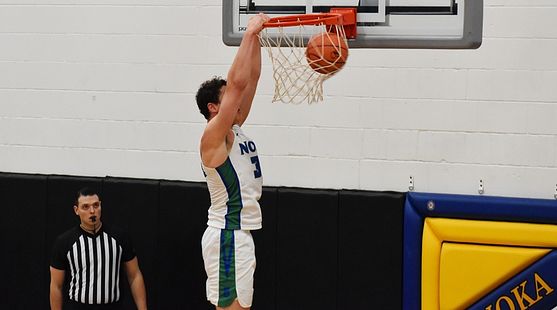 ESCANABA---When the Bay College men's basketball team steps on the court, there's one guy who is immediately noticeable to everyone in the building.

Christian Alexander stands at 6-foot-8 inches, so it's hard to hide him on the court. And it's not just his size that makes Alexander stand out above the crowd.

His play inside the paint, his electrifying slam dunks, and his blocked shots on defense are unusual at the NJCAA level.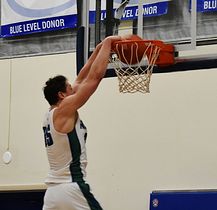 Alexander, after a freshman season that saw him in foul trouble more times than not, has played smarter, and tougher in this his sophomore season.

The native of Dorset, United Kingdom, enters this Wednesday's game against Gogebic Community College is averaging 12.2 points and 10.6 rebounds per game, and that's in an average of just 21 minutes per game.

"I feel like the last couple of months is the best I've played," Alexander said. "I worked hard in the off-season. In the gym, in the lab, every single day, taking shots, working on my craft. That, combined with just being the second year player. I knew what the system was about. I knew the offense. I learned how Americans played basketball. It's a little faster tempo. So coming back with my head on my shoulders."

"Nobody works harder than Christian," Norse Coach Matt Johnson said. "He's always in the gym, working on things. It shows. His dedication is second to none. And we've done a better job of getting him the ball. There's not too many teams at this level who can guard a 6-8 player who can move. We have to keep running things through him and taking advantage of those mismatches."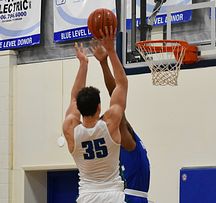 Alexander has had multiple "double-double" performances on the court his season, but he also kept things going in the classroom. That's something Alexander knows he'll need to do if he's given the chance to play in the NCAA next year.

"Last year, I was a bit worried because I didn't really know what to expect, he said. "I still did good, but this year, is even better. It's different in every way you can possibly think. Back home, I hadn't really done any general education since I was like 15. So when I came here, I had to relearn a lot of stuff, starting from a low, basic level, and I had to catch up quick."

Alexander doesn't just think he can play at the next level. He KNOWS he can play at the next level.

"I'm a confident person when I step on the court," Alexander said. "I feel like I can dominate in the position that I play, and given the opportunity, I feel like I can do more things. I feel like I can play at that level (NCAA Division Two) and higher."