Bark River-Harris Girls Cruise Past Munising, 50-31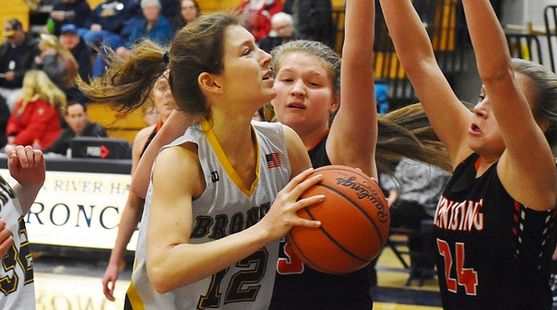 HARRIS---The Bark River-Harris High School girls basketball team used a big second quarter to roll past the Munising Mustangs, 50-31, Tuesday night in Harris.

The Broncos led by as many as 30 points, using a pressure defense to gain control of the game. They overwhelmed a Munising team with a roster of eight players that was reduced to seven in the second quarter when Jenna Matson hurt her ankle.

BR-H led, 10-4, after a sluggish first quarter that saw the teams have as many combined personal fouls than points.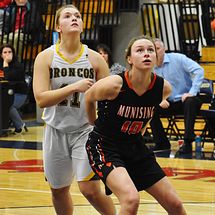 The Broncos went on a big 17-4 run in the second quarter as senior Sierra Debelak sank a triple and scored on a pair of shots in the lane.

Junior point guard Ally Richer also knocked down a triple and attacked the basket with a drive down the middle of the lane.

It was 29-11 at halftime, and the lead continued to grow until the Broncos took the pedal off the medal in the fourth quarter.

BR-H scored only five points in the fourth quarter, but the lead was big enough for the Broncos to coast home with the win.

Debelak and Cara Zawacki both scored 12 points to lead the Broncos, who improved to 5-3 on the season. Gracie Peterson and Aspen Frederick chipped in seven points apiece.

Munising (5-5) got 21 points from Megan Matson.

Click the thumbnails in the ARTICLE HIGHLIGHTS box above to see photos and videos from Tuesday night's game.