Wagner, Norse Beat Gogebic With Big Second Half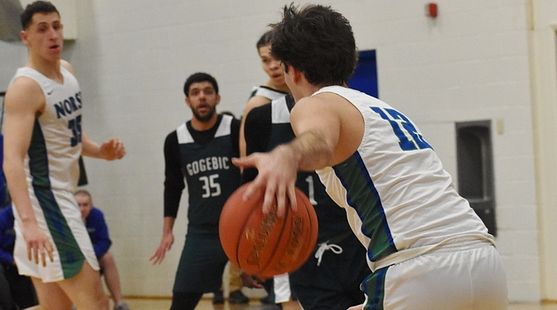 ESCANABA---The Bay College men's basketball team is halfway home to a first-round bye and home playoff game in the upcoming NJCAA Region XIII tournament after the Norse turned back Gogebic Community College, 83-58, Wednesday night in Escanaba.

The win comes a week after the Norse beat Dakota County Technical College in Minneapolis, and means that Bay needs to beat those teams one more time to eliminate the need for a bus trip.


But Wednesday night's win, just like the one last Wednesday, didn't come easy. In last week's game, the Norse rallied from 16 points down in the second half to beat DCTC.

This time, the Norse jumped to a quick 17-2 lead behind five Matt Wagner three-point baskets, only to see Gogebic rally to take a six-point lead at halftime. But when push came to shove in the second half, the Norse reversed the 34-28 deficit to post their second big regional seeding victory.

"I always felt like we were in control of the game, even when they took the lead," Norse Coach Matt Johnson said. "It's a game of runs. They went on their run and played very, very well for the last 12 or 15 minutes of that first half."

""Thank goodness were able to get back, stay composed, and go on a little bit of a run ourselves to finish."

Wagner was feeling it early as he nailed five triples in the first three minutes of the game, missing only one shot.

The only other basket in that stretch for the Norse was a Chris Dobessi floater in the lane, and the 17-2 lead looked like it would be a sign of things to come. Not so fast.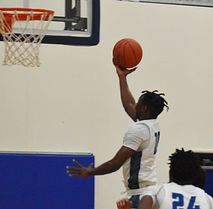 The Samsons dominated most of the rest of the first half, with Dachau Lyle and Raquentez Woodley both nailing a pair of triples and scoring ten points apiece.

Even though Wagner completely shut down GCC's top scorer, Mitch Borseth, the Samsons led, 34-28, at the half.

The second half started with a 11-2 Norse run, highlighted by a Christian Alexander slam dunk, a triple by Ryan Robinette, and a baseline drive by Dobessi. That gave Bay a 39-36 lead.

Borseth was able to knock down a triple to bring GCC to within 41-40, but the Norse went on another 11-3 run as Dobessi scored again on the baseline, making it a 52-43 game. Marcus Harris came in off the bench to knock down two three's, and Wagner was the recipient of passes by Xaviel Fields and Khalid Fleming for a couple of baseline lay-ups.

Wagner got icing on the cake when he nailed his seventh triple a short time later to make it 72-52. Wagner led all scorers with 25 points. He made seven of his 13 three-point attempts and made nine of 18 shots from the field altogether. Wagner also had four rebounds and two steals.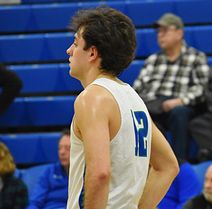 "The last couple of games, I really haven't been shooting that good, especially Alpena," Wagner said. "I really wanted to come right out and have a really good game of shooting at home. Trying to get some rhythm going, going forward. At home, there's no better place to do it. I mean, I shoot on these rims every day, so I figured tonight would be the night to have a big game, especially in a game that means something for the region."

"Matt Wagner, thank goodness, was six for eight from the field in the first half," Johnson said. "If he wasn't, we would've been in a lot more trouble than we were. Matt's a great shooter and he knocked down shots. We got those shots because we moved the ball and we cut like we were supposed to in our zone offense. When we stopped doing that, we just didn't get those clean looks."

Dobessi had 18 points, with 16 of them coming in the second half.

Alexander's dunk was his only basket of the night, but he did have eleven rebounds to go along with his five points. Robinette's triple was his only points, but he had seven rebounds. Fleming added eleven points, six rebounds, and three assists. Harris chipped in nine points.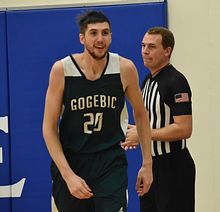 Gogebic (4-13) got 14 points from Lyle and 12 points from Woodley.

Borseth finished with nine, with Wagner being the main reason why.

"The job Matt Wagner defensively did on who is, by far, their best offensive player (Borseth) , was excellent," Johnson said. "He locked him up, He (Boresth) didn't get much until late. That's exactly what we needed him to do. We put him on him for a reason. We thought that was a good match-up for us."

"Coach told me to take it personal and that he was their best player," Wagner said. "I love that assignment. I feel like that makes me play better, makes me wake up for the game even more. He (Johnson) told me that he (Borseth) likes to take shots, and I made it my goal that I didn't want to let him score, and he only had that one free throw when I fouled him that time. I just love those assignments."

Bay College improved to 13-6 on the season and has won six straight games.

The Norse will face Dakota County on Saturday in another huge regional seeding game.
"It would be great to have a packed gym," Johnson said. "It's a playoff-type game for us. We just need to take care of business on Saturday."

It will start at 3:00 Eastern time and will be broadcast on Maverick 106.3 FM and radioresultsnetwork.com.

Click the thumbnails in the ARTICLE HIGHLIGHTS box above to see photos and videos, and hear post-game comments from Wagner and Johnson.