HOLDING SERVE: Bay Ladies Top Gogebic, 64-52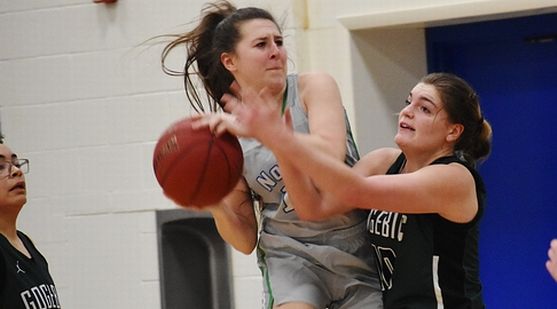 ESCANABA---The Bay College Norse women's basketball team raced to a 22-point lead and held off a second half challenge to beat the Gogebic Community College Samsons, 64-52, Wednesday night in Escanaba.

The Norse picked up a key win for NJCAA Region XIII seeding, and can clinch a home playoff game with another win over Gogebic in Ironwood two weeks from now.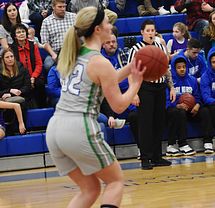 The Norse got off to a great start as Haley Trudell drained three straight triples to give her team an early 9-3 lead.

A pair of baskets by Holly Wardynski, one on a putback and another on a nice dish from Marissa Ackerman, gave Bay a 15-6 lead.

An Aiyana Nickel put-back in the second quarter brought GCC to within 20-17, but the Norse went on an 11-0 run, with triples by Trudell and JuliAnn Wickman highlighting the spurt.

A Trish McGuire basket late in the second quarter put the Norse ahead, 38-22, and it was 40-24 at halftime as Kaitlyn Hardwick scored on a put-back at the first half buzzer.

The lead grew to 51-29 as Trudell launched her sixth three-point basket of the game.

But the Samsons got back in the game by scoring twelve straight points, nine of them by Samiya Buchanan.

The Samsons closed to within 51-41 early in the fourth quarter on a Rylee Nicoletti lay-up, and when Aiyana Nickel made a lay-up with three minutes left in the game, GCC trailed just 58-50.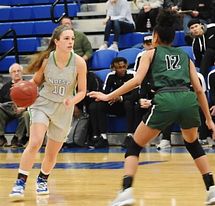 But the Norse ran a nice play that resulted in a Wardynski layup and the Norse put the game away at the line. Trudell, Bay's single-season record holder for three-point baskets, has had trouble scoring recently, as she's been battling illnesses since Christmas break. But she led the Norse with 20 points on Wednesday, making six of her nine three-point attempts and seven of ten overall.

It was a strong overall game for Wickman, who was 6-of-13 from the floor and had five rebounds and two steals on defense. Her dribble penetration, in particular, gave GCC trouble, and she finished with 14 points.

McGuire had an off night shooting (1 of 7 from the floor) but she made five of six from the foul line and collected nine rebounds. She ended up with seven points. Her Gwinn High School classmate, Brooke Mannor, also had seven points as she made five of six foul shots.

GCC (10-7 overall) got 15 points and five rebounds from Buchanan. Haley Grover added ten points and nine rebounds, and Airiana White scored nine points.

Bay College Improved to 13-6 on the season. The Norse travel to Sault Ste. Marie on Sunday to face the Lake Superior State University Junior Lakers. Tip-off is 5:00 and the game will be broadcast on Maverick 106.3 and on-line at www.radioresultsnetwork.com.

Click the thumbnails in the ARTICLE HIGHLIGHTS box above to see photos and videos, and to hear post-game comments from Robinson and Wickman. Also hear Marissa Ackerman's player spotlight interview.