Schultz Scores 1,000th Point; 'Cats Fall To Ferris St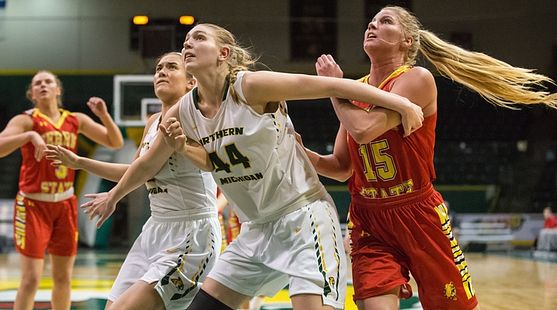 This story was written by NMU Sports Information

MARQUETTE, Mich. – Senior Jessica Schultz (Mineral Point, Wis.) scored her 1,000th career point in the first quarter and finished with 19 points to lead Northern Michigan University Women's Basketball, but the Wildcats ended up falling to Ferris State University 66-60 in Thursday night's Great Lakes Intercollegiate Athletic Conference action.

Schultz finished with 19 points, six rebounds, two steals, two assists and a block to led the Wildcats. Junior Amber Huebner (Marquette, Mich.) and freshman Makaylee Kuhn (Hilbert, Mich.) both added 10 points.

Sophomore Emily Mueller (Fond du Lac, Wis.) chipped in with eight points and six rebounds. Junior Elizabeth Lutz (Marshall, Wis.) notched six rebounds. Senior Erin Honkala (Howell, Mich.) grabbed a team best eight rebounds.

Adrienne Anderson and Riley Blair both scored 19 points for Ferris State.

The Bulldogs took an early 4-0 lead before Huebner sank a three. After an FSU score, Honkala scored in the paint then Schultz hit 1,000 with a basket at the 4:05 mark to give NMU a 7-6 lead.

Sophomore Elena Alaix (Madrid, Spain) made a layup and Mueller hit a free throw to put the Wildcats ahead 10-6 with less than three minutes left in the quarter. However, the guests soon tied the game at 10-10.

With 22 seconds left, Lutz made a three before the Bulldogs hit a jumper to give the Wildcats a 13-12 lead heading into the first quarter break.

To start the second quarter, Kuhn and Lutz made back to back threes which pushed the NMU lead out to 19-12 just over two minutes into the quarter.

The Bulldogs stopped the early run with two free throws but Huebner answered with another three and Mueller made a layup, giving the team their largest lead of the game, 24-14 with 5:49 left in the first half.

Ferris State was able to cut the lead down to 24-20 but an old-fashioned three pointer from Mueller gave NMU a 27-20 lead. FSU scored another basket before Schultz hit a three at the buzzer to give the Wildcats a 30-22 halftime lead.

To start the second half, the Bulldogs managed to take a 33-31 lead halfway through the quarter. The teams then traded baskets for the rest of the quarter. Alaix hit a three and Mueller scored again to tie the score at 36-36 then Schultz scored twice for two more ties.

FSU managed to take a three point lead but Huebner narrowed it to 43-42 with two free throws to set up the fourth quarter.

Schultz gave NMU a lead to open the quarter but the guests answered to take a 50-44 lead. Kuhn soon narrowed it with an and-one, but FSU followed with five points to take a 55-47 lead with four minutes left.

Huebner and Schultz narrowed it again with a basket each before the Bulldogs hit a three. Kuhn answered with a two and Schultz made her second three of the game to pull NMU within 60-58 with 1:08 to go.

Down the stretch, Kuhn added a jump shot but it wasn't enough as Ferris State added six points to win 66-60.

NMU is now 7-9 this season and 4-4 in the GLIAC while Ferris State moves to 10-5 overall and 5-3 in conference action. NMU returns to action Saturday afternoon to host Lake Superior State University at 3 p.m.