HEARTBREAKING LOSS: Norse Fall By One Point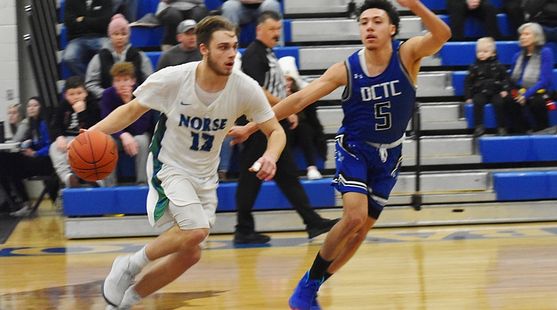 ESCANABA---A game of inches. Maybe even less than one inch. That's how much the Bay College men's basketball missed clinching home court and first round bye when they faced Dakota County (Minn.) Technical College on Saturday in Escanaba.

Chris Dobessi's three-point basket attempt at the final buzzer of the game hit the rim and bounced away, allowing the Blue Knights to escape with a wild 82-81 win over the Norse.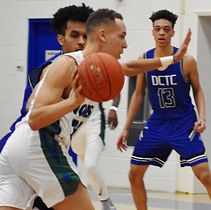 "They're good, right?" Norse Head Coach Matt Johnson said. "You don't make three or four straight national tournaments without being a quality program. And they are. They played hard,and were very efficient offensively. I thought they ran good stuff and they got good looks. But we let them get way too many easy ones."

The result means that the NJCAA Regional home court advantage, and first round bye, could come down to a coin toss for a second straight year, unless Gogebic Community College knocks off either the Norse or Blue Knights next month.

It was an "against-all-odds" kind of win for DCTC, which was playing again without its top player, and had to drive six hours just as a snowstorm hit the Upper Peninsula. The Blue Knights had lost eight of their last ten games, including one two weeks ago to Bay College in the Twin Cities.

And on Saturday, DCTC quickly found itself behind, 9-0, as Chris Dobessi, Matt Wagner, and Ryan Robinette all hit three-point baskets.

In fact, Wagner got off to a personal hot streak for the second straight game, scoring ten early points as the Norse built a 20-12 lead.

But just like Gogebic did to Bay on Wednesday, the Blue Knights made a big run to close the first half.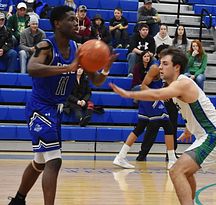 DCTC routinely attacked the right side of the lane, and the baseline, and beat the Norse back on defense during a 24-10 run that gave DCTC a 36-30 lead at the break.

In the second half, the Norse made run after run against the Knights, only to see DCTC answer with either a triple, or a basket off their dribble penetration. Most of that work was done by Daevonte Munson, who had no points in the first half, but scored 18 points in the second half.

A key moment in the game came with 11:39 left in the game when Xaviel Fields was called for a flagrant foul.

The referee mistakenly ruled that DCTC was to get four foul shots and possession of the ball, when it should have been two shots and the ball.

After lengthy conversation that included Norse Coach Matt Johnson pleading his case, DCTC's Deshawn Walker went to the line and sank all four foul shots.

That gave the Blue Knights their biggest lead of the game, 62-53. And it could have been worse as the Knights had a wide-open triple try in the corner, but the pass went through Munson's hands, out of bounds.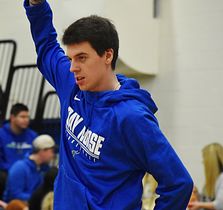 The Norse still trailed, 66-58, with ten minutes to play, when they made their run.
Fields made a couple of free throws, then Ryan Robinette swished a long three-pointer from the top of the key to make it 66-63. Moments later, Wagner nailed his fourth triple of the game, bringing Bay to within 68-67 with 7:32 to play,

The Norse trailed, 73-68, when Christian Alexander got slam dunks on two consecutive possessions, the last off a steal and long pass from Wagner. That made it 73-72, but once again, DCTC had the answer, as Walker nailed a three-pointer seconds later at the other end.

Bay made another push down the stretch as DCTC, which had only seven players dressed, got into severe foul trouble. The Knights had three players with four fouls and another with three.

A lay-up by Alexander tied the game at 78-78 with 3:15 to play, then after a miss at the other end, Dobessi was fouled by Munson, who fouled out of the game. Dobessi made both free throws to give Bay the 80-78 lead with 2:45 to play.

The Knights got the biggest play of the game when Pionte Young rebounded a missed shot and put it back in for an "and one" basket. He missed the foul shot, so the game was still tied at 80. Wagner missed a triple the other way for Bay, then Young made another lay-up, making it 82-80.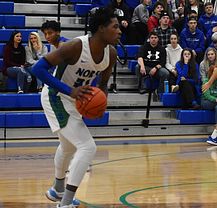 The Norse had a chance to tie with 51 seconds left when Dobessi was fouled and went to the line for two shots. He made the first and was 7-for-7 at the line, but he missed the second one, so the Norse were still down by a point.

DCTC ran the clock down, but a traveling call with 9.1 seconds to play gave Bay its chance to win. Sfter a timeout, Robinette brought the ball over half-court but drew the double team. He threw it to Dobessi in front of the Bay bench. Dobessi stepped around a defender and launched the triple that hit the rim, ending the Norse chances for the season-series sweep.

"It was just too little, too late, for us," Johnson said. "We were looking to get Ryan going with a whole head of steam toward the basket. But they sent two guys on him, they double teamed him and took it out of his hands. Chris Dobessi got a good look at it. I mean, it was up on the rim. It just didn't fall. It wasn't the shot that we necessarily wanted, but it definitely wasn't a bad look."

After the game, led referee Nick Nolde issued a statement apologizing for the mistake that gave DCTC the extra free throws: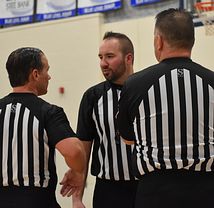 "The flagrant foul should have been 2 shots only, and then the ball (not the additional bonus free throws). I was getting hung up on if there were separate fouls (one common and one flagrant/technical) you would enforce both. I can only say sorry as that ended up being a big factor in the game. There is no excuse not to know the rules."

For his part, Johnson said that his team's poor defensive play was the main reason his team lost, more-so than the officials' mistake.

"The stuff that we talked about all week long is exactly what came back to bite us," Johnson said. "They back-doored us too much. They were able to penetrate and get to the paint too often. It was exactly what we expected. We just didn't execute. They responded, and good teams are going to do that. We allowed them to be confident, because they made plays and made shots. That was partially due to our breakdowns on the defensive end."

Wagner led the Norse with 20 points and four assists. Alexander had 18 points (including three dunks), and eight rebounds. Robinette had a strong all-around game, with 12 points, seven rebounds, and six assists. Dobessi will surely think about the game's final minutes, but he also had strong numbers, with 15 points and six rebounds.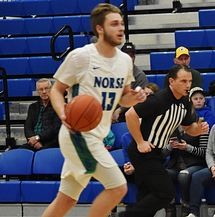 DCTC (12-8) got 22 points and eight rebounds from Walker. Collins-Westlund had four triples and 19 points, and Munson added 18 points on 7-of-10 shooting from the floor.

Going back to last season, all five games between the two teams has been won by the visiting time, with DCTC winning three times in Escanaba and Bay winning twice in Minnesota.

The Norse (13-7) had their six-game winning streak snapped. They will travel to Sault Ste. Marie Sunday night to face the LSSU Junior Lakers.

Tip-off is set for 7:00 and the game will be broadcast on Maverick 106.3 FM and www.radioresultsnetwork.com.

Click the thumbnails in the ARTICLE HIGHLIGHTS box above to see photos and videos, and hear Johnson's post-game comments. Also listen to Ryan Robinette's player spotlight interview.