Finlandia Outlasts Bay College In Defensive Battle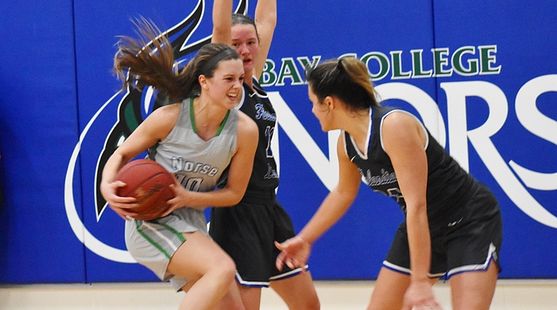 ESCANABA---The Bay College women's basketball team lost for the first time on its home court on Saturday, falling to the Finlandia University Lions, 50-45, in a physical, defensive battle.The result broke Bay's 18-game home court winning streak, dating back to 2017-18.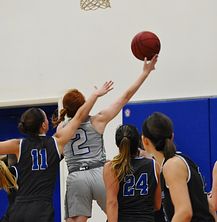 The Norse got off to a strong start, however, taking a 12-2 lead as Haley Trudell and Trisha McGuire both nailed three-point baskets, and Madison Olsen had a strong driving bank shot from in the paint. But the Lions found their second wind, as Bailey Froberg scored seven points and Casana Rynnanen scored a pair of baskets.

Bay was still in front, 16-14, after the first quarter, but the Lions had a big second quarter. Carsyn Osterman had three baskets, including an "and one" bucket and Finlandia outscored the Norse, 17-10, to take a 31-26 lead in the final seconds of the second quarter.

Trudell, however, nailed a triple just before the halftime buzzer to make it 31-29.

The third quarter was rough for both teams, with numerous fouls and empty trips up and down the court. A basket by Olsen late in the third quarter gave Bay a 35-34 lead, and the game was tied, 36-36, heading to the fourth quarter.

In the third quarter, Finlandia scored five points and Bay College managed only seven.

The fourth quarter came down to free throw shooting.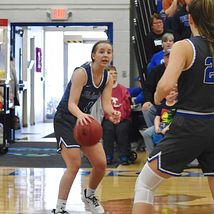 Finlandia made all eight of its foul shots, while the Norse made only 3-of-11 free throws in the quarter. Carsyn Osterman sank a big three-point basket as the shot clock wound down to help the Lions get separation.

Kaitlyn Hardwick had a strong game for the Norse, pulling down 15 rebounds and scoring six points. Her putback with 4:21 left in the game pulled Bay to within 42-40, but the Norse could not make the big push down the stretch.

Finlandia has now won five straight games and improved to 10-11 on the season.

The Lions played without their star center, Katie Lundeen, who's been putting up big numbers this season. The Norse were also shorthanded, with Brooke Dalgord, Brooke Mannor, and Kelsea Ackerman all continuing to be sidelined with injuries.

Bay College fell to 14-7 on the season, and lost at home for the first time this season.

The Norse also did not lose a home game all of last season.

McGuire led Bay with eight points, while JuliAnn Wickman, Trudell, and Hardwick all scoring six points. Osterman led Finlandia with 14 points.

Bailey Froberg, who played last year at Gogebic Community College, scored 13 points. Her sister, Harlee Froberg, added 11 points.

Bay College and Finlandia will meet again on Wednesday in Hancock. Game time from the Nurmi Center is 5:00. It will be broadcast live on Maverick 106.3 FM and on-line ay www.radioresultsnetwork.com.

Click the thumbnails in the ARTICLE HIGHLIGHTS box above to see photos and videos, and hear Coach Rob Robinson's post-game comments. Also click the listen to Brooke Mannor's player spotlight interview.