Fast Start Helps Norse Overwhelm Finlandia, 97-78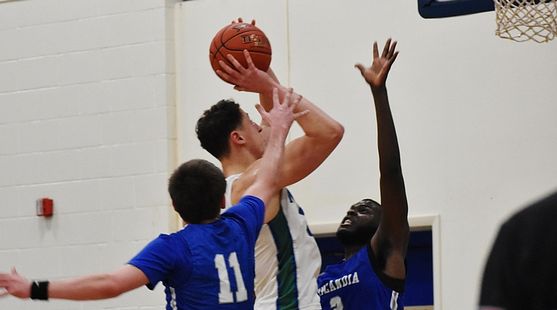 ESCANABA---The Bay College men's basketball team raced to a 30-point lead in the first half and cruised to a 97-78 win over the Finlandia University Lions Saturday in Escanaba.

Matt Wagner scored a career-high 32 points for the Norse, knocking down six three-point baskets and makimg ten of the 15 shots he took from the floor. He also played lockdown defense on Finlandia's leading scorer, Dylan Underwood, holding him to no points and three fouls in the first half. Underwood later fouled out with three points.


Wagner nailed five of his triples in the first ten minutes of the game as the Norse raced to a 30-8 lead over the Lions. Ryan Robinette also made a pair of triples and had two driving lay-ups, and Marcus Harris came off the bench to drain a three-pointer as well.

The barrage of outside baskets and tough defense allowed the Norse to substitue freely, especially after they took their biggest lead of the game at 59-29 late in the first half.

It was a 61-39 Bay College lead at halftime.

The second half was all about having some fun, and feeding the big guy, Christian Alexander. The 6-foot-10 center from the United Kingdom had four slam dunks in the second half and was, overall, dominant during his 26 minutes of play. Alexander did not commit a single personal foul, and finished with 19 points and 15 rebounds.

Robinette was good at his dribble penetration, and at dishing the ball. He had eight assists in the first half alone and finished with nine assists to go along with his 17 points and five rebounds. Wagner had four steals to go along with his 32 points.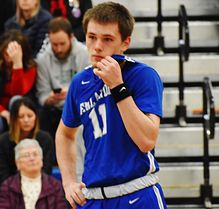 Chris Dobessi had another good effort, with 12 points and eight rebounds in 21 minutes of play. He also had three assists and made only one turnover. As a team, the Norse had only ten turnovers and outrebounded the smaller Lions, 48-29.

Bay College improved to 15-7 on the season and have won seven of their last eight games.

Finlandia was led by Joe Heinonen's 15 points, which included three triples. He was playing close to home, being a Superior Central High School graduate.

Kaleb Kurkseycontibuted 12 points and eight rebounds, and Jacob Oom had eleven points, seven rebounds, and four assists. Devin Moultrie had 11 points and River Shumate added ten as the Lions had five players in double figures.

But it wasn't enough to lead Finlandia to its first win in more than two years. The Lions have now lost 50 straight games, going back to the 2017-28 season. Finlandia is 0-19 this season, playing a strong schedule of NCAA-III opponents.

The Lions will try again to break their losing streak when the Norse makes the return trip to Hancock on Wedmesday night. Game time from the Nurmi Center is 7:00. It will be broadcast live on Maverick 106.3 FM and radioresultsnetwork.com.

Click the thumbnails in the ARTICLE HIGHLIGHTS box above to see photos and video highlights, and hear post-game comments from Wagner and Coach Matt Johnson. Also click to hear Wagner's player spotlight interview.