Gladstone Braves Easily Take Wrestling Triangular

GLADSTONE---The Gladstone High School wrestling team rolled to a pair of dual meet victories Thursday night, beating an undermanned Menominee squad, 66-12, and then beating Bark River-Harris, 57-18.

The Broncos also knocked off the Maroons as part of the triangular, 60-15.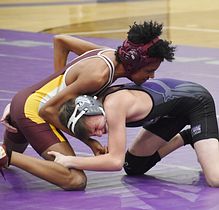 GLADSTONE 66, MENOMINEE 12--The Maroons came to town with only four wrestlers, but the boys who did wrestle were competitive on the mat.

The most exciting match was at 103 pounds, where rookie Cooper Helman battled Menominee's Wilbert Ortega.

Ortega was ahead late in the third period, 7-2, before Helman got a reversal, and then the pin with four seconds left in the period, to get his first varsity wrestling victory.

In the other two matches, Menominee's Aiden Smith got a third period pin over Gladstone's Chandler Liebold at 135 pounds...and at 171 pounds, Menominee's Joe Gimbel picked up a second period pin over Gladstone's Henry Hansen. The 189-pound match was quick, with Gladstone's Riley Starnes pinning Pedro Montoya in the first period.

BARK RIVER-HARRIS 60, MENOMINEE 15---In the second match of the night, the Maroons won two of the four matches but lost the team score due to numerous forfeits.

At 171 pounds, Joe Gimbel pinned Bronco Jacob Wandahsega in the first period. At 189 pounds, Bronco Austin Kleiman pinned Pedro Montoya, also in the first round.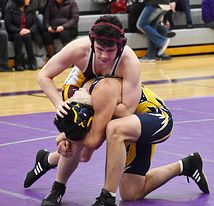 Then the final match, at 103 pounds, was the most exciting. Menominee's Wilbert Ortega, who had let one slip away in the third period earlier in the night against Gladstone, got a reversal for two points with one second left in the third period to win, 12-11, over the Broncos' Brenden Seidlecki.

GLADSTONE 57, BARK RIVER-HARRIS 18---This match was featured lots of good action, with only a pair of weight classes without contested wrestling.

All three of Gladstone's U.P. champions notched pins, with 160-pounder Cole Hansen beating Tyler Racicot (who was wrestling up a class) on a second period pin, and heavyweight Brett Boudreau also got a second period pin over BR-H freshman Owen Chartier. The third U.P. champion to get a win was 112-pounder Michael Brazeau, who defeated BR-H's Josh Riley in the first period on a pin.

The Broncos got a big win from arguably their best wrestler, 145-pounder Drew Allgeyer. He rolled to a 13-0 lead over Gladstone's Andrew Sargent before getting the pin in the second period. Allgeyer, who finished second at the U.P. Championships last week, is one of three North Central High School students on the BR-H co-op team.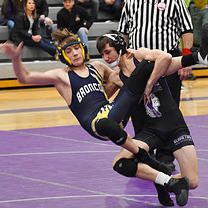 Chartier, who lost to Boudreau, is another, and the third is Daniel Dani, who had a spiritied match at 125 pounds before losing in the first period to Hunter Solis.

At 189 pounds, BR-H's Austin Kleiman picked up a first period pin over Riley Starnes.

Another Bronco win came courtesy of Clayton Eichhorn, who pinned Gladstone's Jonah Frizzell in the first period of their 140-pound match.

The match started at 119 pounds with a match that went the distance. Gladstone's Lane Matzke couldn't get the pin, but got a comfortable 7-3 win over Avry Corrigan. It was the only match of the night that was decided on points.

The 103 weight class again provided an exciting exchange, with Gladstone's Eli Terrien outlasting BR-H's Brenden Siedlecki with a pin midway through the third period.

Gladstone's Cole Potier had the quickest match of the night, easily disaptching BR-H's Keaton Bartoszek with a pin early in the first period. Fellow Brave Blake Servant also got an early pin over Jacob Wandahsega in the first period at 171 pounds. And Gladstone 215-pounder Peter Noblet didn't need long to pin Alex Kern.

Click the thunmbnails in the ARTICLE HIGHLIGHTS box above to see photos and videos, and see post-game interviews with Cole Hansen and Brett Boudreau, and with Broncos Coach Joe Rocicot.