U.P. Wrestlers Compete At Girls State Tournament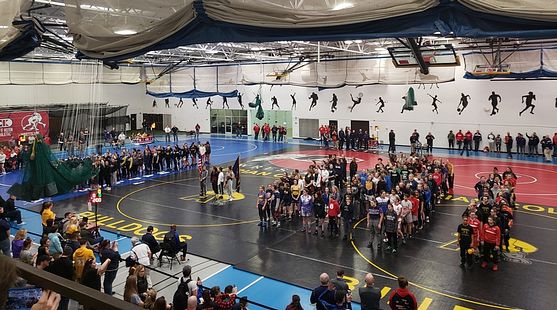 ADRIAN---The Michigan Wrestling Association's Girls High School State Championships were hosted Sunday by Adrian College, featuring 265 wrestlers from around the state.

It's the second year for the event, and the first year that it was sanctioned by the Michigan High School Athletic Association.

Seven Upper Peninsula wrestlers were involved in the event.

Bark River-Harris's Katie Viau competed in the 122-pound bracket, and there were 27 girls in her bracket. She got a pin in her first match against Sam Grubaugh of Ovid-Else High School, and Viau gets the pin at the 1:57 mark.

After losing her second match, Viau got a win in her consolation match, pinning Sabine Yonak from Saline High School in 40 seconds.

Viau lost in her fourth match to end up with a 2-2 record and a Top 16 finish.

"She's come a long way as a first-year wrestler," Bark River-Harris Coach Joe Racicot said. "She listens well and constantly analyses her performance in order to get better. I know she will be back and perform even better next year."

Also at the event, Westwood High School's Alana Nuoala had a great day, finishing second overall in the 117 pound bracket. She lost in the championship match to Jojo Palshan of Southgate Anderson on a 4-0 decision.

Earlier, Nuoala beat Aaliya Lewis of Walled Lake Western on a pin at 1:49, then beat Mariah Bradley of Paw Paw, 7-5, in the quarterfinal. She won her semifinal match over Morgan Irwin of Westland John Glenn, 4-2, before losing in the championship match.

Westwood teammate Lindsay Williams finished fourth at 107 pounds. Williams lost the third place match to Raegan Codden of Manistee on a major decision.

Summer Amacher of Saint Ignace was fifth in the 155-pound bracket.

And Helena Bourque of Sault Ste. Marie was fourth in the 270-pound bracket.

The Soo's 184 pounder Ava Donmyer was 2-3 in her five matches and finished 8th. The Sault's 127 pounder, Alexandra Miller, lost both of her matches, after winning two matches due to byes.