Schultz Scores 36; Wildcats Top Purdue Northwest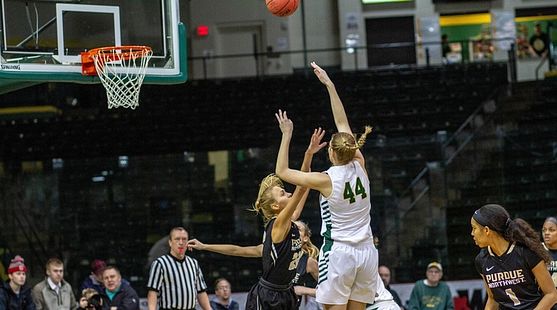 This story was written by NMU Sports Information

MARQUETTE, Mich. — The Wildcat women's basketball team picked up their second straight victory to earn the weekend sweep as they defeated Purdue Northwest, 57-53, Saturday evening.

Behind senior Jessica Schultz's career night with 36 points, the women shot 46.9 percent from the field, including Schultz's career-best 17-of-22.

Emily Mueller made a three-point jump shot as time expired in the first quarter to pull the Wildcats with two of the Pride, trailing 13-11 after 10 minutes of play.

With the Pride up 18-11, the Wildcat women went on an 11-0 run, spurred by a two-point jump shot by Jessica Schultz, with Schultz posting eight points in the stretch, helping her team to the 22-18 lead.

Following up their successful run, the women entered the half up 24-23 on the Pride.
After back and forth action to start the second half, PNW tied things up at 29-29 but the Wildcats answer back fast with a three-point jumper from Amber Huebner.

The lead was short-lived however, as the Pride answered right back with a three-pointer of their own.

Schultz broke the stalemate with a jump shot from the elbow to give the Wildcats the 34-32 lead.

With two minutes left in the third quarter, Schultz tied her career high point total, tallying 26 points for the Wildcats as she tied things up at 40-40.

The Wildcats entered the fourth quarter trailing 43-42 but bounced back to take a 49-45 lead with five minutes to play.

With 1:02 left, Makaylee Kuhn gave the Wildcats the 55-50 lead as she was fouled on the layup.

The Wildcats finished the night off with a pair of free throws to cap off a 57-53 victory over the Pride.

Jessica Schultz's 36 points, breaks her career high point total of 26, previously set at Saginaw Valley State University in January.

The game marks her fourth straight game with at least 20 points and her 36 points marks her first 30+ point game.

The Wildcat women are back on the road next weekend with trips to Lake Superior State (February 13) and Ferris State (February 15).