BIG COMEBACK: Hematites Rally To Beat Broncos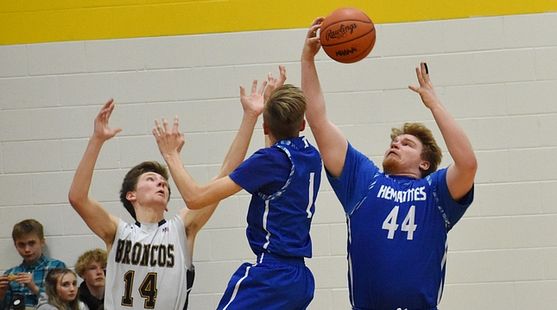 HARRIS---The Ishpeming High School boys basketball team shook off a horrendous start and beat the Bark River-Harris Broncos, 67-56, Monday night.

It was the first ever meeting between the schools in basketball.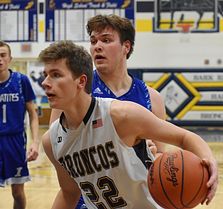 Bark River-Harris jumped to a 10-0 lead, and had a commanding 23-5 lead at the end of the first quarter.

Riley Bray scored eight points and Carter Zawacki added seven in that quarter, and the Broncos' 1-3-1 zone defense gave Ishpeming fits.

But the Hematites turned things around in the second quarter. They turned the tables on the Broncos by outscoring BR-H, 24-12, to close the deficit to 35-29 at halftime.

Jacob Kluger nailed two triples and scored eight points in the quarter, John Corkin and Jaycee Kipling both hit three-point baskets.

Things got even worse for the Broncos in the third quarter, when they scored only four points against the tough Ishpeming defense. After Ishpeming took its first lead midway through the quarter, a Nick Javurek steal and layup made it a 39-39 game.

Corkin responded for Ishpeming with two straight triples, making it 45-39.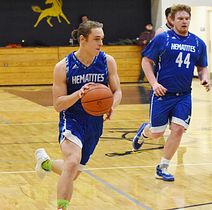 In the fourth quarter, the Hematites continued pulling away as Ben Pruett hit a triple and two-point basket. Ishpeming made just enough free throws in the fourth quarter (8-of-15) to cruise to a win that an hour earlier looked to be unlikely.

Corkin led the Hematites with a game-high 18 points. Jake Kugler added 14 points as the Hematites improved to 4-8 on the season.

BR-H (6-7) was led by Bray's 17 points.

Zawacki added 11 points for the Broncos, who travel to Stephenson Tuesday night.

Click the thumbnails in the ARTICLE HIGHLIGHTS box above to see photos and videos, and hear comments from Ishpeming Coach George Niemi.