STRONG FINISH: Karp, Redmen Hold Off Braves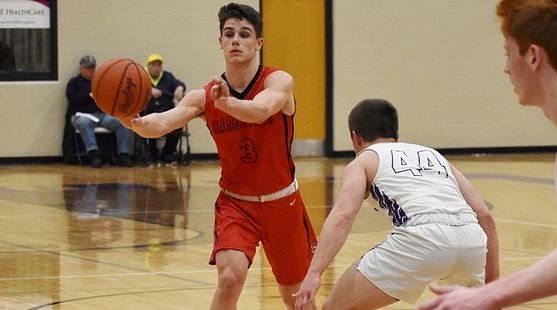 GLADSTONE---The Marquette High School boys basketball team scored 12 straight points in the final two minutes to pull away from the Gladstone Braves, 70-58, Tuesday night in Gladstone.

The Braves had rallied from 14 points down to get to within three points, but Kameron Karp scored 13 of his game-high 29 points in the fourth quarter to lead the Redmen.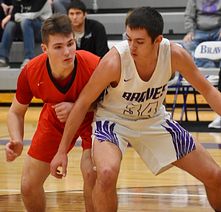 Gladstone trailed early, 27-13, but closed to within 34-24 at halftime.

The Braves went on a 9-0 run to start the third quarter to cut Marquette's lead to 34-33.

The Redmen went back in front, 49-43, at the end of the third quarter, but the Braves rallied again in the fourth quarter, cutting the Marquette lead to 58-55 before putting on that final push. Karp says it was more about defense than offense.

"We just picked up our intensity on defense," Karp said. "They were beating us back on the floor, so Coach (Brad Nelson) preached during the time out that we had to step it up on defense and get stops, and I think we did just that."

That was certainly true in the final 2:30 as the Braves did not score a point until Rane Castor knocked down a triple in the final seconds.

By then, though, it was too late, and Karp kept getting fouled, and kept going to the foul line. He made 13 of 14 free throw attempts to put the game on ice for the Redmen.

"Obviously, I was hitting free throws today," Karp said. "When I'm hitting free throws, you want me on the free throw line, so that's pretty much it."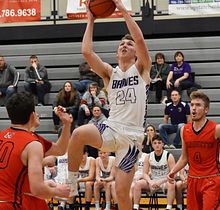 Cam Ballard led the Braves with 25 points, and had 22 of his team's first 37 points, when he cut his team's deficit to 38-37 with 3:12 left in the third quarter.

Ballard would score only three more points the rest of the game as Marquette's defense switched its focus.

Rane Castor filled in the gaps for Gladstone, finishing with 16 points.

Braves Coach Dane Quigley says his team played hard despite the outcome.

"I'm really proud of the way my guys played," Quigley said. "That's a good team, one of the three, four best teams in the U.P. As a coach, what you want to see is improvement. They beat us by 30 when we went up there (84-54 on Dec. 17). To play a game like this, I don't think our guys have anything to hang their heads about tonight."

Marquette improved to 13-3 on the season while Gladstone slipped to 7-7.

The Braves will play their third game in four days on Thursday when they host the Kingsford Flivvers in another Great Northern Conference game. Tip-off is 7:15 and it will be broadcast live on WCHT-AM (NewsTalk 600) and on-line at www.rrnsports.com.

Marquette will host Escanaba in a key GNC game Thusrday night.

Click the thumbnails in the ARTICLE HIGHLIGHTS box above to see photos and videos, and hear comments from Karp and Quigley.