Norse Women Whip Samsons; Clinch Home Court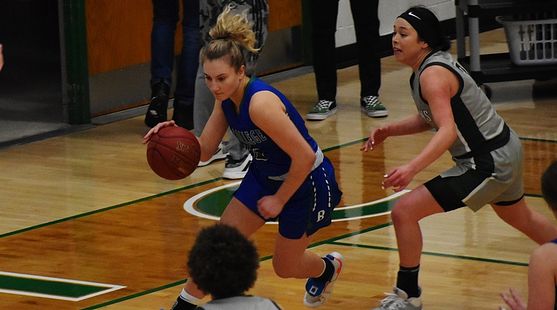 IRONWOOD---The Bay College women's basketball team clinched home court advantage for the upcoming NJCAA Region 13 tournament by beating Gogebic Community College, 80-54, Wednesday night in Ironwood. The win was the first head coaching victory for Matt Gregory, who took over for Rob Robinson late last week.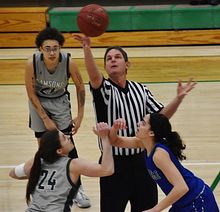 Holly Wardynski, playing a half hour away from her hometown of Ontonagon, led the Norse with 20 points. She scored six of those points during a pivotal second quarter when the Norse turned a 23-12 deficit into a 31-28 halftime lead.

Wardynski made seven of the nine shots she took from the floor, and she sank all four of her free throw attempts. She also grabbed six rebounds.

"I played in this gym countless times, so it felt comfortable," Wardynski said. "This place definitely has a big part of me. I've just spent a lot of time in this gym. Just real comfortable here."

Brooke Dalgord scored 14 points, making six of her eight field goal attempts, and made both of her free throw attempts.

Dalgord also had a team-high nine rebounds. Haley Trudell knocked down four triples and scored 12 points.

The game also saw the return of Kelsea Ackerman to the lineup. She missed more than a month with a knee injury, and scored seven points. The Norse defense forced 35 Gogebic turnovers, leading to numerous layups on the offensive end.
"That makes me happy, really happy," Wardynski said when she learned her team created 35 tunovers. "We've had a hard time getting those steals the past couple of games."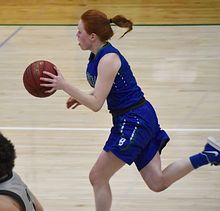 The Norse dominated the second half, outscoring GCC 49-26.
Samaiya Buchanan led Gogebic with 15 points, on 6-of-13 shooting from the floor. She also had seven rebounds. Airiana White chipped in 13 points for the Samsons.

Bay College (15-10) swept the season series from Gogebic (11-10) and earned the right to host the regional tournament game on Feb. 26 in Escanaba.

Bay College closes the regular season with two games in Chicago. The Norse face Malcom X College at 5:00 ET on Friday, and will face Harry S. Truman College at 2:00 ET on Saturday. Both games will be broadcast live on Maverick 106.3 FM and on-line at www.radioresultsnetwork.com.

Click the thumbnails in the ARTICLE HIGHLIGHTS box above to hear post-game comments from Wardynski, Ackerman, and Gregory. Also hear Kaitlyn Hardwick's player spotlight interview.