WIRE TO WIRE WIN: Bay Women Win In Chicago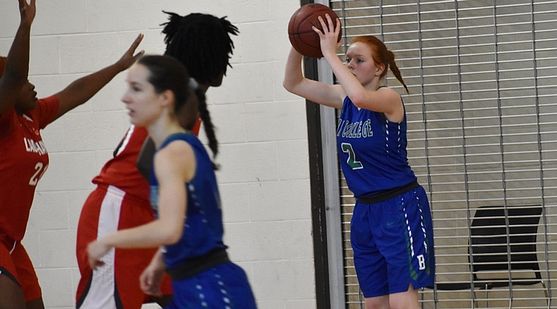 CHICAGO---The Bay College Norse women's basketball team had the lead from start to finish Friday and posted a 68-36 win over the Malcolm X Hawks in downtown Chicago.

The Norse caused 37 turnovers, 24 of them in the first half, in building a 37-13 halftime lead that was never cut below double digits.

Points were hard to come by in the first quarter after the Norse scored the first three baskets in the first couple of minutes.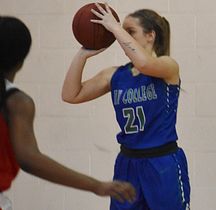 The score was 6-1 for the Norse for the longest time before Kaitlyn Hardwick scored twice and Brooke Mannor scored once, giving Bay a 15-3 lead after the first quarter. The Hawks had trouble getting the ball across half court, and when they did, they either rushed shots or threw passes that were way too high.

In the second quarter, Haley Trudell scored six points in five seconds as she drained a triple, stole the inbounds pass, scored under the basket, and was fouled. She made the free throw, and the Norse grabbed a 26-8 lead. Trudell hit another triple moments later.

Cierra Molina also knocked down a triple in that 22-point quarter for Bay.

The third quarter saw the Hawks cut the 24 point deficit to 15, as Jessica Congress scored nine points and Jada McCrury scored six, closing the Bay lead to 43-28.

But the Norse scored the final two baskets of the quarter and reclaimed command on the defensive end in the fourth quarter, allowing only eight points, causing four turnovers, and scoring on three lay-ups. They outscored Malcolm X, 21-8, in the fourth quarter, with six different players scoring during those eight minutes.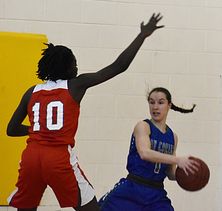 Bay won the game despite getting to the downtown Chicago gym only 26 minutes before tip-off after the team got caught in massive traffic jams caused by an increased number of visitors to the area, led by the NBA All-Star game. It took 1 hour, 15 minutes, to make the 15-mile drive from the team's hotel to the college campus.

Hardwick led the Norse with 11 points and eight rebounds, and Trudell had 12 points and four steals on defense. Wickman scored nine points and Madison Olsen added eight points. Dalgord led the team with nine rebounds to go along with four points.

Malcolm X (14-9 overall) got a game-high 20 points from Congress.

Bay College improved to 16-10 on the season and will play its final regular season game on Saturday against Truman College. Game time is 2:00 ET and it will be broadcast live on Maverick 106.3 FM and on-line at www.radioresultsnetwork.com.

Click the thumbnails in the ARTICLE HIGHLIGHTS box above to see photos and videos, and hear post-game comments from Mannor and Coach Matt Gregory. Also click to hear Haley Trudell's player spotlight interview.