RIVALRY HOOPS: Eskymo Girls Rally Past Braves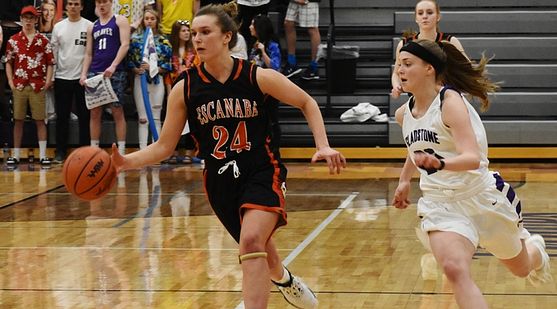 GLADSTONE---The Escanaba High School girls basketball team outscored the Gladstone Braves, 20-6, in the fourth quarter, to post a 47-39 come-from-behind win in the Battle of Delta County Monday night in Gladstone.

The Braves led, 33-27, entering the fourth quarter, after Marnnea LaFave scored two straight baskets, both of them in the paint. But the Eskymos went on an 8-0 run as the Braves offense went cold and Nicole Kamin took over for Escanaba.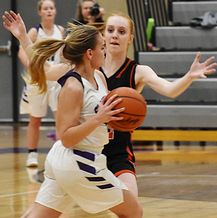 Andie Balenger tied the game at 35-35 with a short jumper, but the Eskymos kept getting the ball to Kamin, and she went to the free throw line nine times in the fourth quarter, making eight of those shots down the stretch.

"We decided to roll the dice with Nicole, playing with four (fouls)," Escanaba Coach Kelly O'Connell said.

The gamble worked, and Kamin keyed the Eskymos at both ends of the court.

"We kind of switched up the defense and that threw them off-guard, making them run a different offense," Kamin said. "It was very stressful. Towards the en,d it was getting nerve-wracking because they're coming at you, you know, but we just got it done."

Kamin scored 19 points to lead all scorers, including 12 points in the fourth quarter, in a game that featured numerous offensive foul calls, especially in the third quarter.

"We did some good things, but we had some silly turnovers when we tried to push it in transition," Gladstone Coach Andy Cretens said. "We got some good looks and we were doing the things that we wanted to do, and the girls did a great job of executing our gameplan. But once again, we have a hard time being consistnt."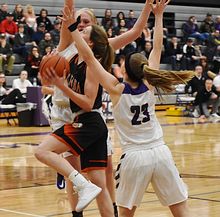 Creten's game plan was to slow the game down on offense, often setting up and making multiple passes before attempting a shot. It worked, as the Braves led, 14-6, after the first quarter, 20-17 at the half, and 33-27 after three quarters.

Cretens says that Kamin was a difference-maker, but there were other Escanaba players that made big plays to cost his team.

"Their two top players scored 18 of their 20 in the fourth quarter," he said. "They stepped up and made some big plays. We just have to find ways to do a little more to get us a win. A big thing was we gave up two wide-open three's to (Mari) Bink and (Taylor) Ray in the second half. If we eliminate those two, we probably win the game."

Megan Crow scored 12 points to lead Gladstone, while Maddie Ahlgren and LaFave both scored nine. Andie Balenger chipped in eight points for the Braves.

Besides Kamin's 19 points, Escanaba got nine points from Bink, including seven in the third quarter. Ray and Maddy Monkevich both scored six points.

Escanaba improved to 10-6 on the season, and Gladstone fell to 5-12.

The Eskymos host Ishpeming Thursday night, and Gladstone will host Gwinn.

Click the thumbnails in the ARTICLE HIGHLIGHTS box above to see photos and videos, and hear post-game comments from Kamin and Cretens.