Emotional Eskymos Skate Past Jeffers 7-2 In Finale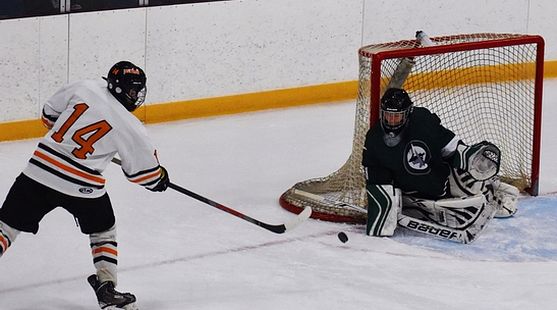 WELLS---Do it for Devin.

That's what was one of the goals for many of the Escanaba High School hockey players on Saturday as the Eskymos closed the regular season against the Painesdale-Jeffers Jets.

They were playing on home ice for the first time since former teammate and friend Devin Fisher died, and two-and-a-half days after the entire team attended a tear-filled funeral for the 18-year-old Fisher.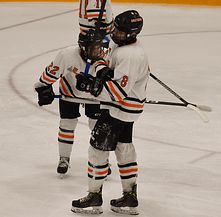 And they were playing just a couple of hours after attending an event at the Donut Connection, where players ate doughnuts and shared their funny stories about the time they spent with Fisher, both in and out of hockey.

Then on the ice, the Eskymos scored five goals in the first period, and then after a lousy second period, put the game away with two more goals in the third to beat the Jets, 7-2, at the Wells Sports Complex.

Kyle Krutina and Nick Kolich both scored a pair of goals, and Ethan Silverstone had a goal and three assists for the Eskymos.

"Just to play every game for Devin, that's my goal," Kolich said after being picked the game's #1 star. "I love that kid. I mean, he's my teammate, and I'm just trying to play my hardest and score some goals for him. Those two goals I scored there are up for him."

"He was always doing something to make people laugh. It's very heartbreaking," said Spencer Bourdeau, one of Kolich's linemates and one of Fisher's best friends. "You've just got to get through it. Play for him, and play for his family, and do what you can to get through it and take your minds off things."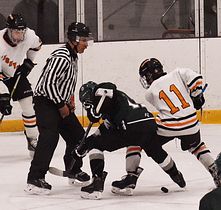 Jeffers took a 1-0 lead 70 seconds into the contest when Jackson Rocchi banged a rebound past Eskymo goaltender Trevor Denome.

The Eskymos were shorthanded seconds later when Brayden Martineau was called for boarding, but Escanaba scored a shorthanded goal on the PK. Ethan Silverstone hustled after a loose puck in the Jeffers zone, dove, and got his stick on it.

Kyle Krutina got the shot, which was saved by goaltender Evan Piettila, but Silverstone was there to sweep it into the open net to tie the game.

The flood gates opened as that top line continued to dominate. Kyle Krutina made a pinpoint pass to his little brother, Karson, who ripped it into the net for the go-ahead goal. Three minutes later, Kyle Krutina got the puck at the blueline, skated through the defense, and fired it top shelf to make it 3-1.

Then on the power play, Luke Labre's long shot banked in off the goalie's body to make it 4-1, then Kolich slid one between the goal post and Pietila's body at the 12:28 mark to make it a 5-1 Eskymo lead.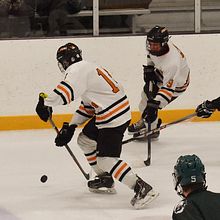 "That was very important for us to start on time," Escanaba Coach Matt Hughes said. "Thankfully, we did, because we didn't have very much scoring after that. It was a good thing that we had some jump in the first period. Those guys have been doing the majority of our scoring all year."

Luke Marcotte got one back for Jeffers with 37 seconds left in the first period, and then the Eskymo offense all of a sudden became ineffective. The Eskymos managed only one shot on goal in the entire second period. Fortunately , Trevor Denome stopped all 13 shots Jeffers fired at him, so it stayed a 5-2 game.

"That was awful," Hughes said. "I was not very impressed with how we played in the second period. We were on our heels, they outshot us, 12, 13-1. I think when a lot of goals are getting scored early in the game, guys started trying to maybe hang onto the puck a little too long, trying to do things on their own, instead of using each other."

The Eskymos rebounded in the third period against goaltender Noah Nettell, as Kolich scored a pretty goal at the 6:25 mark as he wheeled around and one-timed it into the net. Then 35 seconds later, Kyle Krutina got his second goal of the game as Silverstone won an offensive zone faceoff and Krutina stripped it from the Jeffers player in front of the net and poked it home to make it 7-2.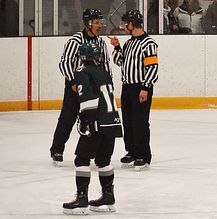 "Overall, we ended the game well," Hughes said.

Reinhart did not play for a seven-minute stretch of the game, but he was strong on the blue line the rest of the way and earned the game's #2 star.

"I guess I had to take a break and calm down, and just get my bearings together, go back out there, and take care of what had to be done," Reinhart said. "I'm just happy that I finished out strong."

"He played well," Hughes said of Reinhart. "He played tough in the defensive zone. He was kind of mean, which you need as a defenseman. You don't want to give them any time and space, and if they do earn that time and space, you have to be physical with them. I thought he did a great job of that. Also, moving his feet when he got the puck. "

"There was a few times where he was able to create a turnover, grabbed the puck, took a couple of strides, and make a tape-to-tape pass. That's all we ask of our defensemen."

Denome ended up making 30 saves on 32 shots. He was picked the game's third star.

"He made some very good saves for us," Hughes said. "Some of them were on the penalty kill, and some of them were through traffic, so it was good for Trev to come out and get this game."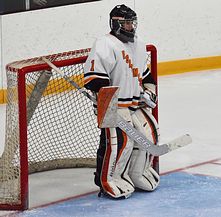 "After Thursday night (8-0 loss at Hancock), it was good for him to come out this afternoon, bounce back, and make a lot of good saves."

"I wanted to go out there and get some revenge," Denome said. "I went through my normal warm-ups, just like every other game, and get my head in the game, and do the best I can. Jeffers likes to send a guy behind our defense in front of the net, so you just have to kind of watch in front of them, get your head out to the point wherever the puck is, and make the save."

Escanaba clinched a winning season with the victory, finishing with a 13-11 record. Jeffers finished the regular season with a 7-15 record.

The win ended a heartbreaking week for the Eskymo hockey team on a positive note.

"Everyone's been so supportive to each other," Reinhart said. "The community has just come together and helped everyone out, so that's good to see."

Bourdeau says Fisher will not be forgotten.

"There were quite a few people (at the funeral) who actually really cared about him, and so it's hard to see it happen, but you've got to be there for each other, and just let everyone know that everyone's here for everyone."

The Escanaba-Negaunee game from Negaunee will be broadcast Thursday night on WCHT-AM (NewsTalk 600 and FM-93.5) and on-line at www.rrnsports.com.

Click the thumbnails in the ARTICLE HIGHLIGHTS box above to hear a special interview with Kolich, Bourdeau, and Reinhart.

Also hear Clayton Smith's player spotlight interview, and post-game comments from Hughes, Kolich, and Reinhart. Also see photos and video highlights taken by Micky LaMarch.