END OF THE LINE: Bay Men Eliminated By DCTC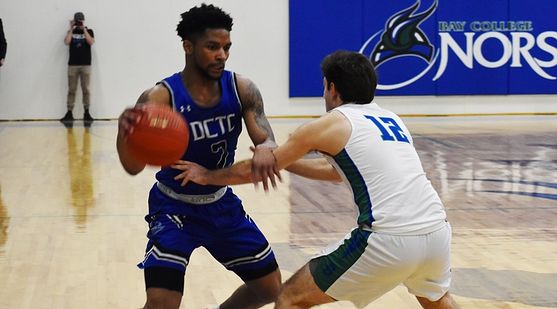 ESCANABA---The Bay College men's basketball team had its season come to an end Wednesday night in the NJCAA Region 13 semifinals, losing to Dakota County Technical College (Minn.), 82-71, at the Bay College Gym.

The Norse lost to DCTC in the regionals for the second straight season, both times on their home court after winning a coin toss to earn home court advantage. Counting regular season games the past two seasons, the Blue Knights have won all three games in Escanaba, while the Norse have captured both games in Minnesota.


In Wednesday's game, a 16-2 DCTC run to end the first half proved to be the difference as the Knights took a 47-30 lead into the dressing room.

The Norse put on a furious rally in the second half to close the deficit to within four points, but DCTC pulled away at the end to advance to the regional final.

"You can't give a team that's this good that many easy opportunities," Norse Coach Matt Johnson said. "We wanted to make sure that they didn't get points in transition, and they didn't get the ball into the paint.

"And 39 of their 47 points in the first half were because of one of those two things. We just didn't execute."

Much of the damage was done by DCTC's Harlyn Owens, who did not play in either of the two regular season meetings because of an injury. On Wednesday, Owens made contested shot after contested shot, finishing with a game-high 28 points.

The Norse led, 17-12, in the first half, as Christian Alexander dominated inside with a slam dunk and ten points altogether. Marcus Harris drained two triples off the bench, making up for an uncharacteristically-cold shooting night from leading scorer Matt Wagner. Wagner made just one of 13 triple tries.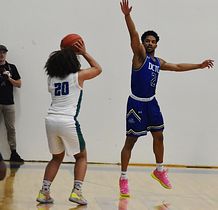 Still, Alexander kept the Norse in it, with Bay trailing just 31-28 before the big DCTC rally that ended the first half.

"We got Christian a ton of touches early in the game, and he did an incredible job," Johnson said. "But we got away from that and it took a while to get back into what we were trying to do on offense."

Harris knocked down three more triples in the second half as the Norse rallied behind a near-sellout crowd that hollered at every opportunity. Dondre Yohe came off the bench to make two excellent passes to Alexander and Chris Dobessi on back-to-back plays to bring the Norse to within 67-62 with 5:41 left in the game.

The Norse got even closer at 69-65 with five minutes to play when Harris nailed his fifth triple, but the Blue Knights got five offensive rebounds on one set and they scored the basket to regain a six point cushion.

"We had a couple guys that quit on that play, we really did," Johnson said. "That's what really kills us in a game like this. You can't take a possession off. It's a game of inches and every possession matters."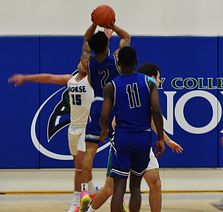 Piontek Young scored the baseline hoop to make it 71-65 and after a turnover, Owens came down and sank a triple that pretty much ended it at 74-65.

Alexander had a monster game in his final Norse contest, scoring 24 points and grabbing 19 rebounds.

Harris had 17 points including those five triples, and Dobessi was solid again against DCTC, making 16 points.

Besides Owens' 28 points, Lorenzo Smith had 17 points and Deshawn Walker had a double-double 12 points and 10 rebounds for the Blue Knights (19-10).

The Norse finished their season with a 19-10 record.

"I will give our guys credit," Johnson said. "Man, they battled, they were resilient, they did an awful lot of really, really good things in that second half. Unfortunately, it wasn't enough."

Click the thumbnails in the ARTICLE HIGHLIGHTS above to see photos and videos taken by Nate Belleville, and hear Johnson's post-game comments and Christian Alexander's player spotlight interview.