PLAYOFF UPSET: Norse Women Lose To Gogebic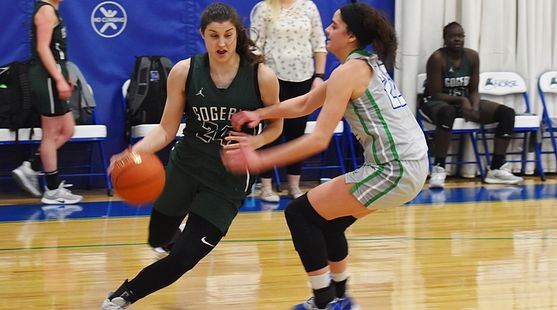 ESCANABA---The Bay College Norse women's basketball team wrapped up an emotional season filled with injuries and an abrupt coaching change with a heartbreaking loss in the NJCAA Regional semifinals Wednesday night, falling to the Gogebic Community College Samsons, 60-57, at the Bay College Gym.

Ariana White's three-pointer with 0.4 seconds left in the game capped a big comeback in the fourth quarter for the Samsons, who entered the game with a short bench, a fill-in coach, and a sub-.500 record on the season.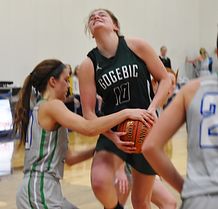 But the Samsons claimed the upset win by outscoring Bay, 25-13, in the fourth quarter, against a Norse team that could not get the production out of its defense that it normally does.

"Gogebic knocked down some pretty tough shots," Gregory said. "We knew that was going to happen. We just had to get out there and contest more shots, and obviously play the drive a little bit. Both teams played pretty hard. It was a good game. You hate to see it end this way. I'm proud of all of the girls on this team."

Gregory took over for Rob Robinson with two weeks left in the regular season, and guided the Norse to three straight wins to close the campaign, including a 82-54 win over Gogebic in Ironwood to clinch home court advantage for Wednesday night's game.

He tried to piece together a line-up that was plagued with injuries, and the Norse played without a girl who had dominated the Samsons in the last meeting, Holly Wardynski.

And it seemed like the Norse would survive this one after falling behind, 19-9, after the first quarter, but shutting the Samsons down in the second quarter, 18-4, to take a 27-23 halftime lead.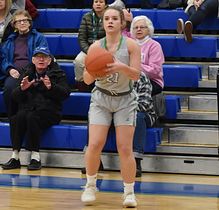 Bay got big third quarters from sophomores JuliAnn Wickman and Kaitlyn Hardwick to expand the lead. Wickman nailed two three-pointers and Hardwick scored six straight points to end the quarter, giving Bay a 44-35 lead entering the fourth quarter.

But the Samsons tightened things up with an 8-0 run to start the fourth quarter as Haley Grover knocked down a triple and Samaiya Buchanan scored two baskets inside. Trish McGuire's three-pointer gave Bay a 47-43 lead, but White nailed a triple seconds later to make it a one-point game again.

Gogebic took a 57-52 lead with 2:04 left on a Grover lay-up, but Brooke Dalgord hit a jumper to close it to a three-point game, and Wickman split a pair of free throws to make it 57-55. The Norse defense forced a pair of late turnovers, and the offense tied the game on a Hardwick basket off a Brooke Mannor pass with 31 seconds left.

Gogebic decided to go for the win, and it looked like the game was headed to overtime when the Samsons couldn't get a clean look. But White hoisted a triple from the top of the key as the shot clock was on its final second, leading to a wild celebration for the Dark Green-clad Samsons.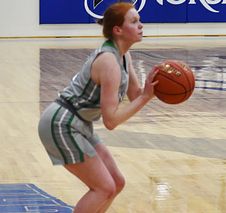 The Norse had four-tenths-of-a-second to work with, and a time out moved the ball to half-court, but the desperation three by Hardwick was an airball as the game ended.

Bay's leading scorer all season, and career three-point leader, Haley Trudell, did not score a point, missing all five of her triples.

Wickman picked up the slack, knocking down four of the five three's she tried, and she finished with 18 points.

Hardwick also finished with 18 points and grabbed seven rebounds.

Gogebic played without longtime coach Mark Movrich, who had to sit out because he was ejected from the Samsons' last regular season game in Chicago. Nonetheless, they improved to 13-13 on the season, and was led by Grover's 14 points. White and Aiyana Nickel both scored 11 points, and Buchanana scored ten.

Bay College finished its season with a 17-11 record.

Click the thumbnails in the ARTICLE HIGHTLIGHTS box above to see photos and videos taken by Nate Belleville, hear Gregory's post-game comments, and listen to the player spotlight interview with sophomore twins Marissa and Kelsea Ackerman. Also listen to radio replays of Hardwick's tying basket and White's winning hoop.