PLAYOFF WINNER: Eskymos Cruise Past Miners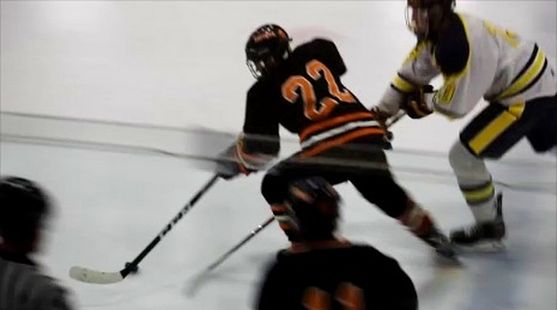 NEGAUNEE---The Escanaba High School hockey team scored two goals in each period Thursday night and cruised to a 6-1 win over the Negaunee Miners in the MHSAA Division Two Regional semifinals at the Negaunee Ice Arena.

Nick Kolich scored two goals and added two assists as the Eskymos set up a regional championship match with Marquette next week.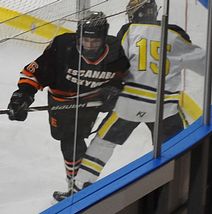 The Redmen beat Kingsford, 7-1, in Thursday night's other semifinal game in Dickinson County.

"I felt great," said Kolich, who was picked the Number One star for the second straight game. "After I got that first one after the second shift, we just kept building off there. I mean, our line was just working low really, really good. We just got going to the net and got rebounds and good shots. You keep working teams like that, that's what happens. They get lazy in the defensive zone."

Kolich's linemates, Sawyer LaMarch and Spencer Bourdeau, also scored goals, and LaMarch had a second goal waived off by the officials in the third period after it was ruled he kicked the puck into the net.

"I think we played well," Escanaba Coach Matt Hughes said. "We were able to put a lot of pressure on them. Unfortunately, we had a few penalties and they took advantage of that once. They (Kolich-LaMarch-Bourdeau) had a pretty solid game. They got pucks down deep on them, and we were able to start a cycle, and put a lot of pressure on them, which tires a lot of their guys out."

The freshman LaMarch had a goal and two assists.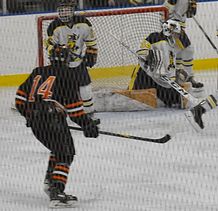 Escanaba's top line of Ethan Silverstone, Kyle Krutina, and Karson Krutina, also had a fine game. Karson Krutina got a "hard-work" goal in the second period to make it 3-0 on play in which he got drilled and hurt his hip.

Kyle Krutina scored a wrap-around goal in the third period to make it 5-0.

"Karson had a nice shot from the slot and took a hard hit right after and missed a couple of shifts, but he got back in the game," Hughes said. "Kyle had good hustle down deep, grabbing a puck, and with the wrap-around goal, and so, overall, I thought we played well. I think we left some room for improvement."

Senior defenseman Luke Labree had two assists for the Eskymos.

Jack Mattias scored the only goal for the Miners with seven minutes left in the game, but by that time, Escanaba was already ahead by five goals.

Escanaba outshot Negaunee, 44-25, with Miners freshman goaltender Ryan Kerkela stopping 38 shots. Escanaba senior goaltender Trevor Denome had 24 saves.

The Eskymos improved to 14-11 on the season, while Negaunee finished at 6-19.

UP NEXT: Escanaba and Marquette will meet in the regional final Wednesday night, with Escanaba looking to pull a major upset against the state's fourth-ranked team, which easily beat the Eskymos twice in the regular season. Game time Wednesday is 7:00 and it will be broadcast on NewsTalk 600 AM and on-line at www.rrnsports.com.

Click the thumbnails in the ARTICLE HIGHLIGHTS box above to see photos and videos taken by Micky LaMarch. Also hear Trevor Streichert's player spotlight interview, and post-game comments from Hughes, Kolich, #2 star Sawyer LaMarch, and #3 star Gunner Bourdeau.