Bay College Norse Hold Annual Kids Baseball Camp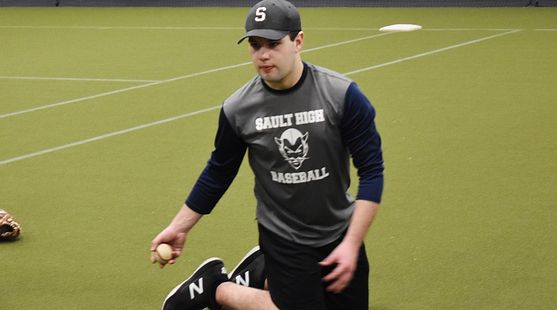 ESCANABA---The Bay College Norse baseball team hosted its annual clinic for area students Saturday afternoon. There were two three-hour long sessions: one for third through eighth graders, and another for high school kids.



"Just to come and see what the college is about, and try to learn something today," said pitcher/catcher Matt Bush from Pickford High School. "We went through a lot of hitting drills, just helping to speed up our swings and work on our good form. We're working on some infield drills, too."

"I came here to see what Bay College is all about and get to know the players and get a feel of what they do here," Sault Ste. Marie High School third baseman James Alexander said. "I learned a bunch of stuff, a lot of new things about hitting, and a couple new things about ground balls."
Bay College coaches and players ran the clinic, giving the younger guys some tips on the fundamentals of baseball.

They had hitting drills early in the sessions, then worked a lot on defense, with fielding ground balls a big part of the instruction. They also worked on pop ups, and making those diving defensive stops that all infielders like to get.

"It's something we like to do every year because we're at the point of our season where we're ready to roll and play some ball," Bay College Head Coach Mike Pankow said. "It's a good day for us to take a day off (from practicing) and give back to the community a little bit, and help to work on the skills of the young players who want to come in and are interested in baseball. It's a really fun day for our guys."
The Norse baseball team opens its season next Saturday with two games in Fort Pierce, Florida, against Northwestern Minnesota and against Washington College.

Click the thumbnails in the ARTICLE HIGHLIGHTS box above to see photos and videos from the camp, and see interviews with Bush, Alexander, and Pankow.